Ah, work-related travel… Anything is better than those single-day trips to Brussels I was made to take at some point, but I′m sure that everyone who travels for work is struggling to strike a balance between being fresh and alert in the morning and seeing as much of an unknown city as possible during the limited leisure hours. I stayed in Rome for four days and three nights, with a very busy schedule, but not only the organizers made sure that we see something, but also I was blessed to have a companion who has lived in Rome, as well as a colleague who grew up there and generously shared tips before I went.
I was prepared that if I do not manage to see the famous landmarks, at least I will enjoy charming urban landscapes.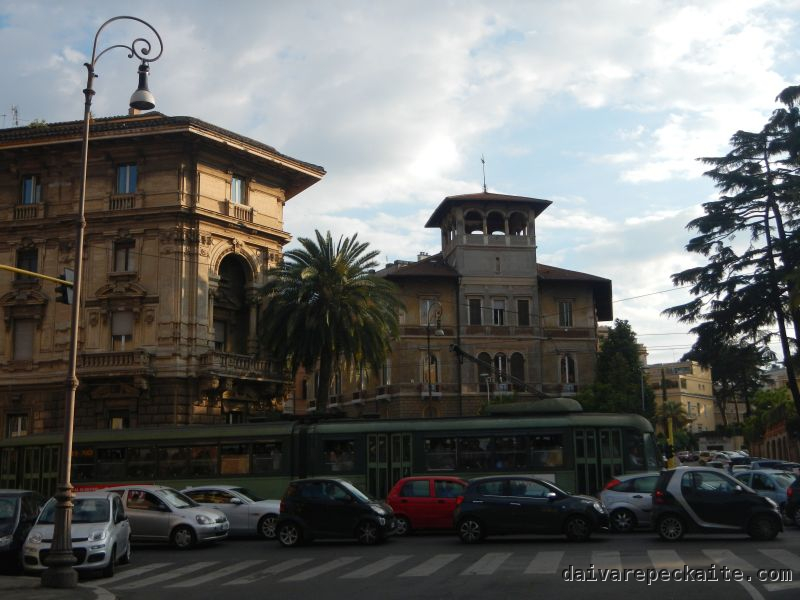 Yet I managed to see everything I wanted – Rome is really easy to navigate, walkable, and has efficient public transportation, given its size and Mediterranean culture.
Rome really has scores of landmarks – Roman ruins, statues and monuments, architectural masterpieces and picturesque panoramas.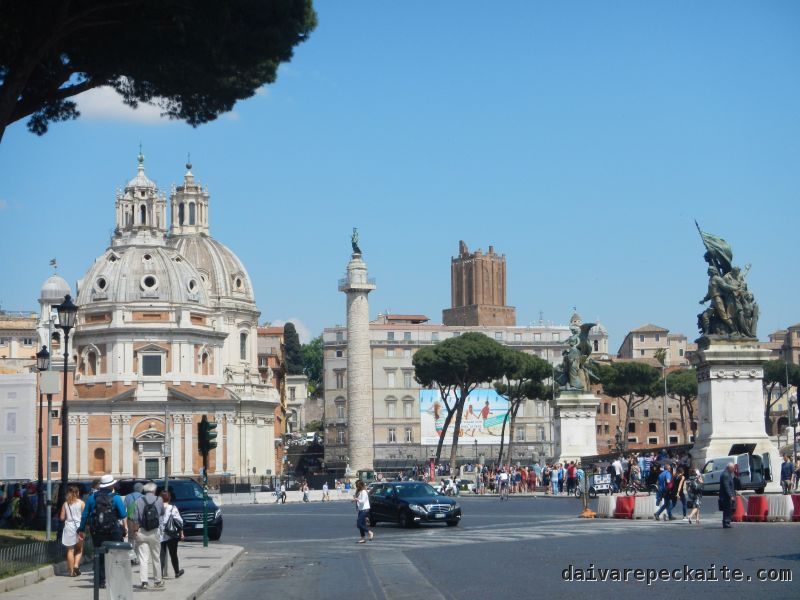 At the same time, sometimes I′m just as interested in things like this – little signs of human improvization.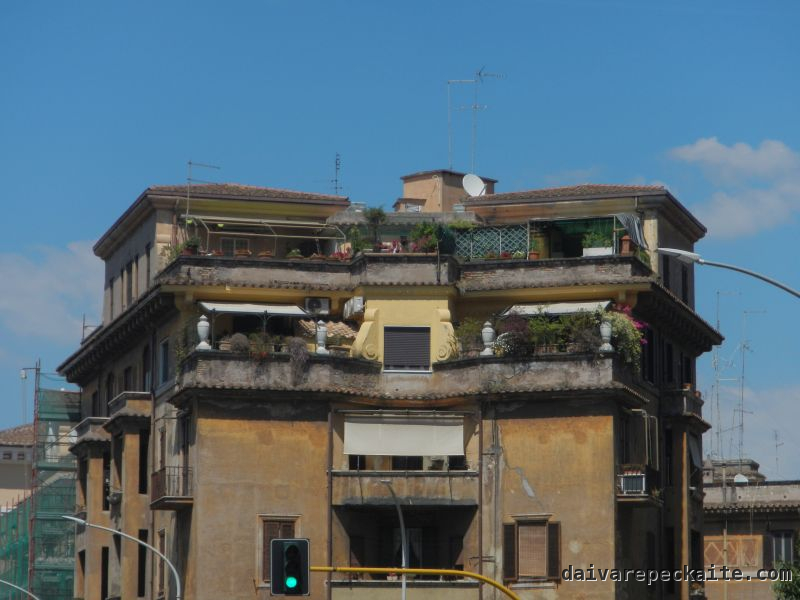 So it′s best to see the trip as a series of walks. We started along the Tiber river. In addition to the greenery and some buildings, one can see the monument of Vittorio Emanuele II, the so-called wedding cake, from afar.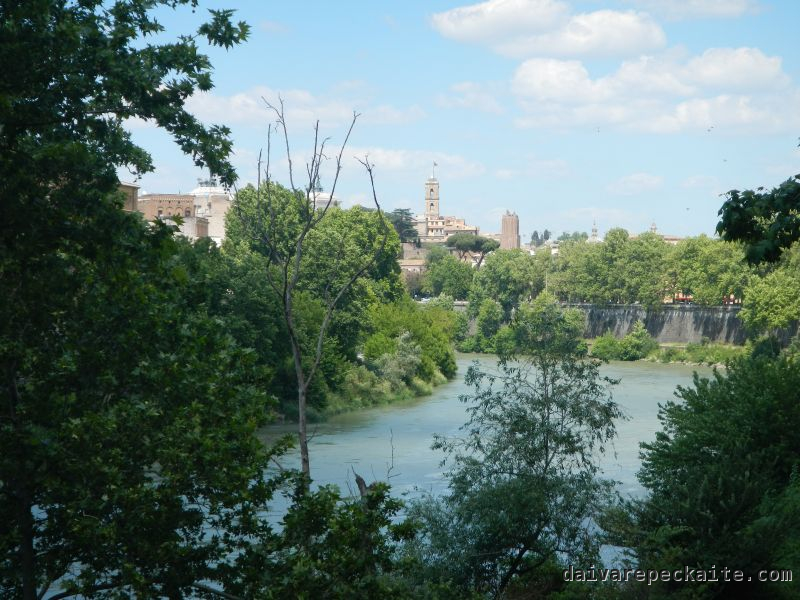 Walking along the river, we soon reached the Mouth of Truth – the famous monument where tourists pose with their hand in the statue and a fake scared face for the camera, as if the statue is gobbling up their hand. We saw a TV crew filming something on location.
Having turned right from there, we soon approached the Roman Circus, where horse races used to take place. Further down is the famous Coliseum, restored to its glory, surrounded by crowds of tourists and inevitable peddlers. There is a bridge that locals like – a bit removed from the tourist crowd, it offers the best view of the Coliseum. As far as I can see, the local way to enjoy things is to look at them from higher altitudes.
On the Aventine hill, with fountains and a parking lot, where local teenagers hang out, the premises of the Order of Malta offer this glimpse at the St. Peter and Paul Basilica through a keyhole. Many tourists line up to take this photo with their phones – in vain. You need zoom to make the Vatican visible, otherwise just enjoy the sight.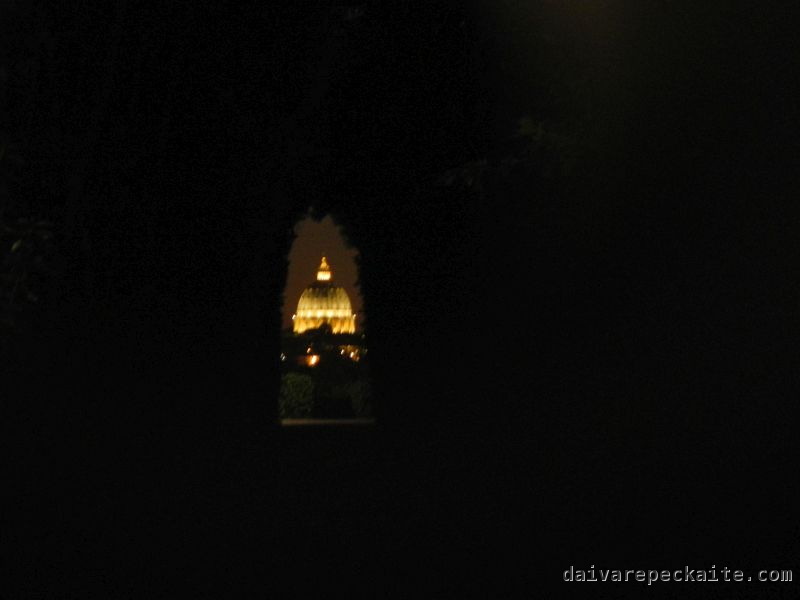 As we made time for another walk, we explored the central and touristic part of Rome. We walked past the parliament and police (carabinieri) headquarters, gorgeous Four Fountains, the Trevi fountain, Egyptian-style obelisks, Piazza Navona (one of people′s favorite squares) and so on. I believe most readers will have seen most of the touristic photos. The companion who is an expert on Rome made sure that we enjoy ice-cream at Giolitti, which many people consider a must. Vegan/ lactose-free options are available.
Many flock to central Rome for its fashion shops. This one is very special – it is for priests. One can clearly see that clerical fashion is really expensive.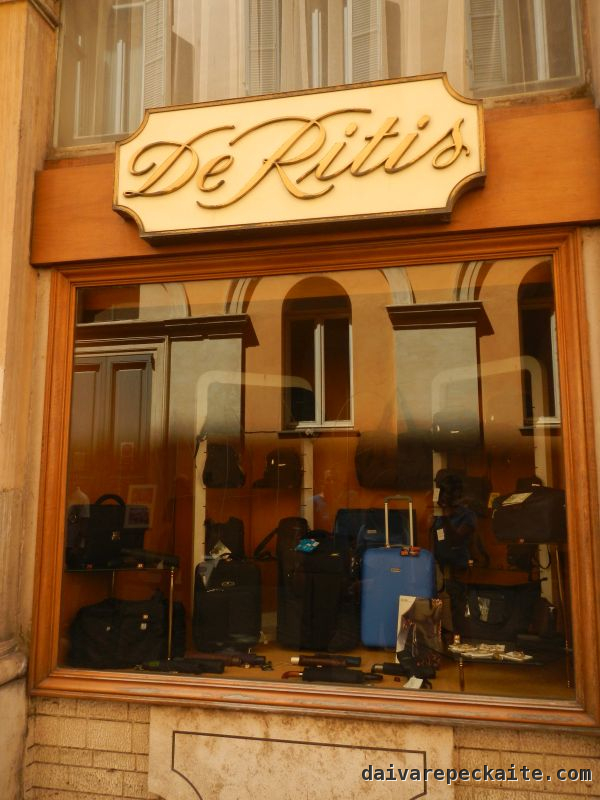 Following advice of my colleague, we went to Pasquino square, where a run-down ancient sculpture was historically used to distribute critical, politically charged pamphlets since the sixteenth century. The tradition still continues, and I saw Putin caricatures inserted among poetry about political life of today. There are more so-called talking statues in Rome.
The Vatican is to be visited early in the morning to avoid long waiting time. Since we did not have sufficient morning time, we went there in the evening. The church was obviously closed, but hey, I finally added another micro-state to my list! The main square was serene and mostly empty. Several rough sleepers were clearly visible.
Another walk took me to St. Eustachio, a cafe that is said to serve the best espresso in town. The truth is, even coffee from a machine at a reception center for asylum seekers in Rome tasted better than most of the coffee I can get in Maltese cafes, but being Lithuanian, I am spoiled, as Lithuanian cafes really merit the geographically relevant expression – trying to be more Catholic than the Pope, or more coffee-savvy than Italian counterparts. The espresso was very rich and creamy.
There are many impressive churches, but the one of San Ignazio will stay in my memory for its creative optical illusion of a dome.
We took some time to sit by the Spanish steps with slices of pizza from the railway station, ruining the backdrop for three photographers aiming their cameras at an impossibly skinny model. Exploring various squares and fountains, I regretted not having more time and a sketchbook to capture cute details like this, near Collegio Romano.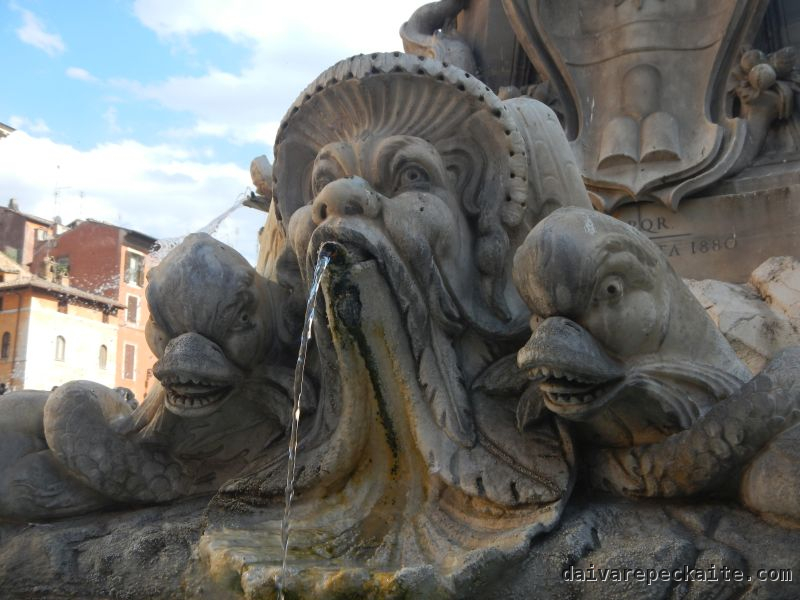 My companion told me another secret – an observation point on top of the Capitoline Hill offer the best view of the Roman fora. Many other things can be seen from there – again, the best views are from Rome′s plentiful hills.
Of course, it was crowded, with selfie sticks flashing in the sun and spray artists producing cheap bright stuff. Of course I wasn′t exactly overjoyed to see consumption so celebrated in overpriced shops. When I briefly toyed with the idea of getting myself a designer item for memory (many things cost something like a month′s worth of my (part-time) labor at my first job), I had to admit that even if I wanted to spend this money on something produced in Bangladesh under exploitative conditions, I would simply not find anything aesthetically appealing. But not to worry – Italy still offered a rich shopping experience for me, mostly because they, too, have Base Camp with a nice selection of travel-optimized beach items (such as a beach towel the size of two wallets). Also, my two reliable sources recommended Il Papiro stationery shop, where owl lovers will be tempted to jump or squeal, depending on your preference.
Following my colleague′s advice, I went to to Piazza Campo dei Fiori, where most buildings result from a social housing project, which reminds me of a more eccentric square in Budapest. The square, with a statue of Giordano Bruno in the middle, is a beloved place to hang out, and one of the few remaining affordable areas in Rome. Local superstition has it that one should not look Bruno in the eye before any important exam.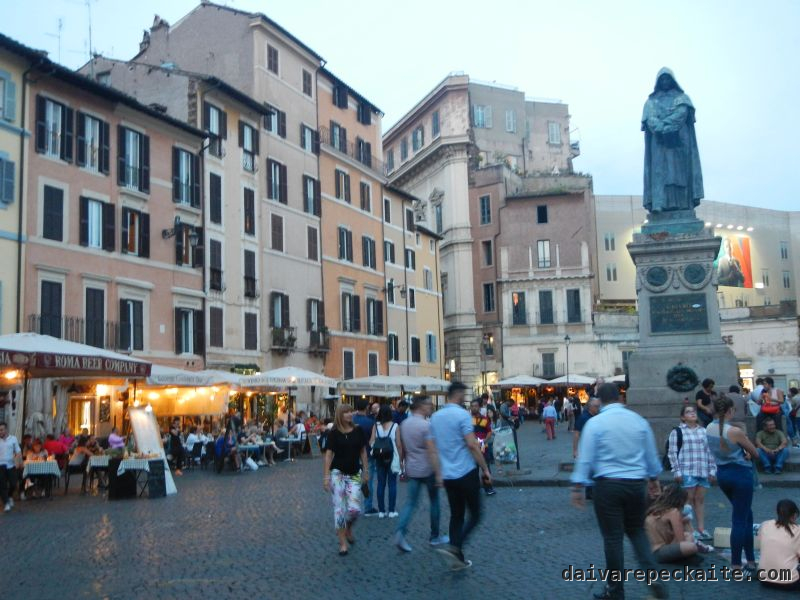 This was probably one of the more interesting squares I visited, and I wished I could spend more time exploring this area.
One interview I read with a chef who struggles to introduce experimental cuisine to Italians confirmed how conservative the attitude is towards experimenting with food. But in many other areas, the ancient city of Rome is buzzing with creative trends and re-interpretations of what it means to live on top of all this history.