Milan was not on my travel wishlist, but this is one of the main gateways to Italy from Lithuania, since Ryanair and Wizzair fly there. Milan is known as the industrial and business capital of Italy. I have met many Italians who have worked there at some point in their lives – and usually did not quite enjoy it. Milan is known to be stressful and competitive, even merciless. Meanwhile, the Milanese are said to be complaining that they earn Italy's GDP while everyone else is just chilling. My expat friend living in Italy also mentioned the extreme fashion-consciousness in Milan, where, in her experience, people really judge you if you are not fashionable enough. I couldn't say I got to know Milan, busted or confirmed all these generalizations during the short time I spent there, but the real gateway to the city was my Couchsurfing host, who also commented on my friends' memories and impressions from living here.On the shuttle from the airport a group of men, seemingly Belarusian, discuss their previous trip to Italy and the disappointment of getting a simple cappuccino when one of them asked a waiter to bring him "the most exotic coffee". Already in central Milan, the first thing that I found striking was that more people were trying to cheat on the metro than anywhere I have been to in the world. Ticket machines at the entrance and exit gates are a recent introduction, my host later explained, and it takes time for habits to develop.
The machines were not the only recent improvement. My host explained that there were several initiatives strongly advocated by the new center-left mayor (unusual in Milan – news story from the Independent here). New restrictions on pollution were introduced, and access to the city center was limited for cars. Many politicians and residents were against the innovations, but the mayor managed to hold his ground and people are starting to see the impact of the new regulations.
Milan is not exactly famous for sightseeing spots. Its Cathedral was recently cleaned, my host said she didn't remember it so white. The 'little Madonna' on top is one of the main landmarks.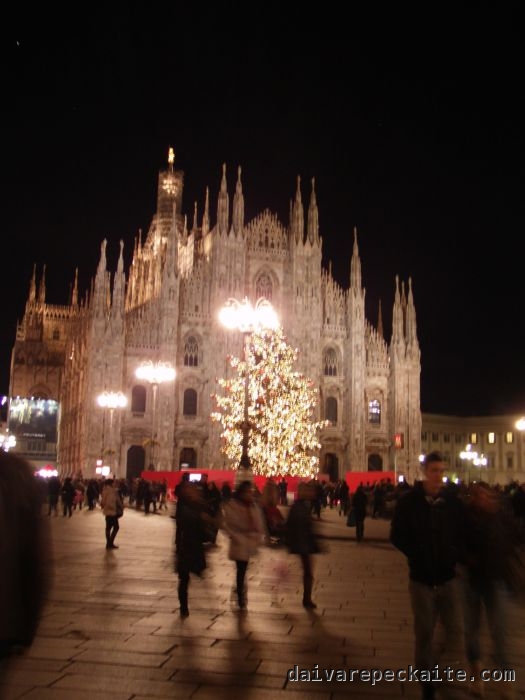 There is a shopping gallery with famous brands and lots of tourists close to it. The gallery was built to commemorate the first king of Italy, Vittorio Emanuele II. It connects two of Milan's most famous landmarks: the Cathedral and the Teatro Alla Scala. There is a mosaic on the floor, which features a bull – coat of arms of of Turin. Bulls are said to be otherwise untypical for Italian decor and probably celebrates the historic connections to Spain. It is believed that standing on the testicles of the bull and turning around three times on one leg brings good luck, so the place is always busy and that part of the bull had to be restored several times.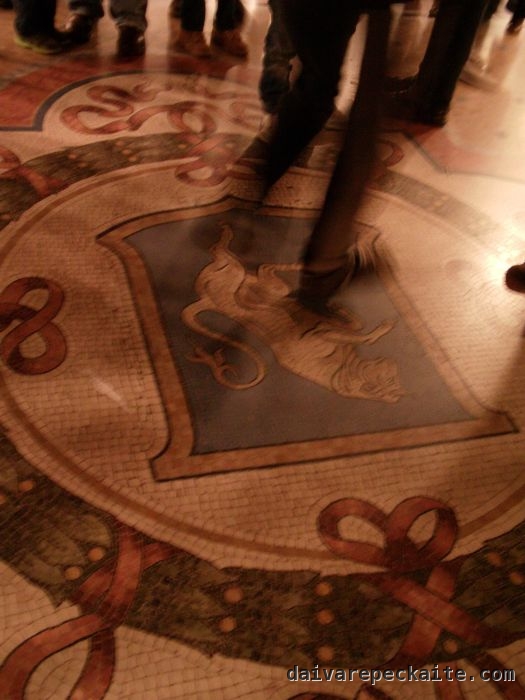 The gates of the city are another tourist attraction. They are named after cities they lead to. Open space in one of the gates can be lent for various activities, and for some time it was held by the bakers' association.
As many older cities, Milan has numerous churches, but typically they open only for the mass. This is the only chance to see the interior.
The castle of Milan has several museums in it and a fountain. It seems to be a pleasant, but not architecturally outstanding place.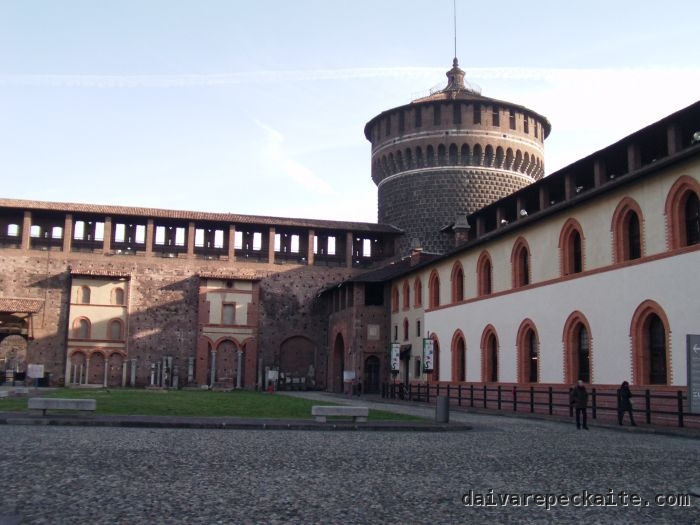 I did not see much street art, but the few works we saw were interesting.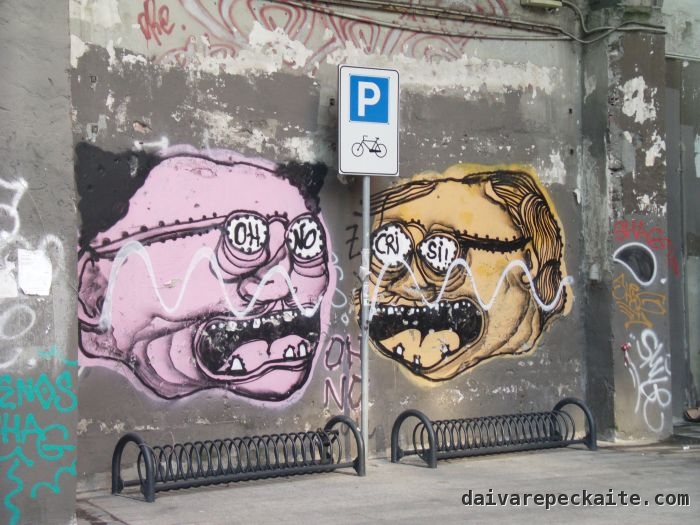 To experience Milanese nightlife, my host took me to Foresta – a bar of exquisite design and the most creative menu of drinks – for the traditional Milanese happy hour. The concept is that visitors buying drinks get a plate of free snacks with unlimited refills. I have fond memories of Milanese-style happy hours  from Al Bacio in Luxembourg.
In Foresta, the interior is made from wood, and the bar's own variations of cocktails are served. I chose the "Picanta" with cucumber and ginger ale. "Foresta", named after the bar, is another special cocktail with a 'frosty' top.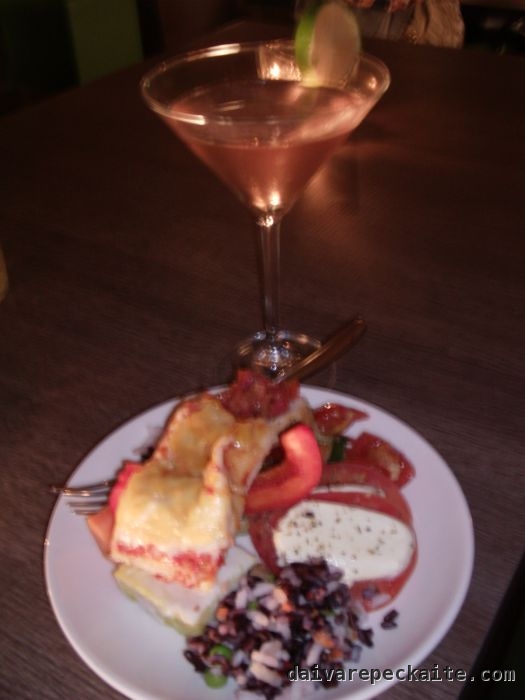 This is the new hip bar, and my host is proud to remember that she was among its 50 first Facebook fans when the bar opened in July last year, closed in August for holidays and reopened to became one of the trendiest places and receive very good reviews.
The other famous lounge bar is Mono – a LGBT friendly cheap place with, as people say, the best cocktails. Next time.
I decided to avoid any fashion-related stuff, and my host was also not interested in it. It is worth discovering Milan beyond the stereotype – that it's all about fashion.
But one stereotype I was happy to practice – I had the most wonderful real Italian cappuccino, made by my great host.