Everyone was telling me that seeing the desert in Israel is a must. So, having collected a few tips, I set of to explore the desert. Before that, the South-most point I had visited in Israel was Be'er Sheva. There are buses to some of the desert towns, but we decided to choose a more adventurous way to get there rather than to spend about six hours on a bus.
Turns out that there is a website where students of Ben Gurion University of the Negev, based in Be'er Sheva, as well as researchers working for various research centers in the desert, offer a ride to others and thus get compensated for the fuel. The university is quite well-known, and research centers offer promising careers as well, but not everybody wants to live in Be'er Sheva, particularly when they are older and student life is simply not enough to compensate for being so far away from everything in a rather small and provincial city. The ride (an equivalent to Mitfahrgelegenheit in Germany and covoiturage in France) brought us to a famous kibbutz, Sde Boker. David Ben Gurion, Israel's first prime minister, decided to move here after his retirement. He had a vision to develop the desert into a livable space and tried to show an example. He died and was buried in Sde Boker, and his grave is one of the must-visit sites for school trips. Many schools from all over the country bring their pupils to this area of the desert.
Creating livable cities in the desert takes a lot of planning and skill. These houses are facing the sun, but various details create a shade over the windows.
This was the first kibbutz I ever visited. It had a round hallow square in the middle for people to hang out, several restaurants, travel agencies and other services around it. It was clear that the structure of the kibbutz was strongly influenced by tourism. Kibbutzim used to be experimental socialist 'villages', where children were brought up together rather than with their parents, where the inner economy functioned on a barter basis, and the community was expected to support its members in every way it could. Most kibbutzim were agricultural. According to my friend I., who grew up in a kibbutz, agriculture was the most popular job to choose, but some boys also dreamed about crafts. With time, however, kibbutzim became increasingly commercialized, started relying on labor from outside, and have largely abandoned the dreams of building a viable alternative to capitalism.
One exotic moment in Sde Boker was when I saw a very original baby pram – it was like a metal cage on wheels, and about six children, aged 1-2, were standing in it. I could guess the lady pushing the baby pram was a caretaker from the local kindergarten. I would have really liked to take a photo, but I felt it would have been rude. Older children were playing in a nearby hallow area.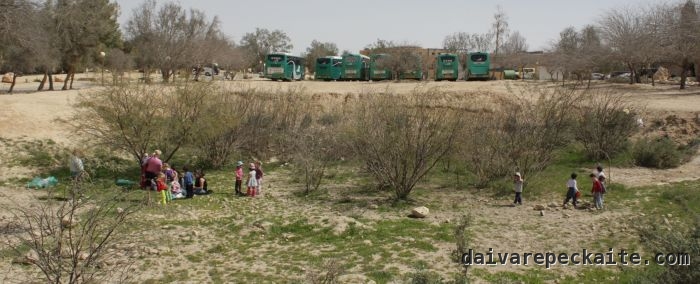 Traces of desert rivers, which dry out in summer, are visible in this view from a hilltop. Jets fly frequently from a nearby army base.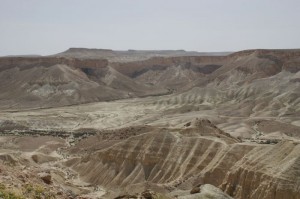 But Sde Boker was not our destination. We went on the road to hitchhike to Mitzpe Ramon – this was what we wanted to see. Hitchhiking is very popular in this part of Israel. People understand that not everybody can take a car or public transport to the distant towns of the South. Unlike in Lithuania, the fact that drivers take hitchhikers doesn't imply they are bored, and it is not necessary to talk to the drivers. We met another hitchhiker, who was on the way to a distant kibbutz in the South, but was planning to stop in Mitzpe Ramon. We all were picked up by two men driving to this town. Mitzpe Ramon is situated near a huge crater. Its main sights are places to look at the crater's moon-like landscape.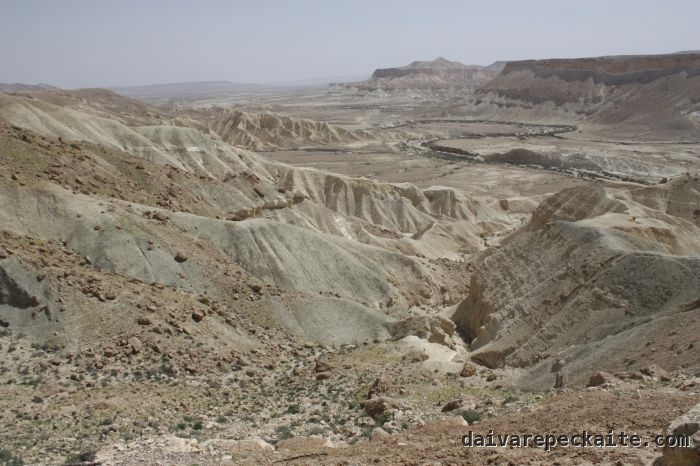 The heat was tiring, and we decided to go to a camping place where we planned to sleep. The driver who picked us up was going as far as to Eilat in the very South of the country. She was quite interested in our stories and told us hers. We said goodbye to her at an intersection with a small unpaved desert path that we had to take to reach the Be'erot campsite. On the way there we were lucky to get a hitch from one of the workers of the campsite.
The campsite is a popular choice for schools and taglit trips. So no wonder that we found the camp occupied by 200 youngsters.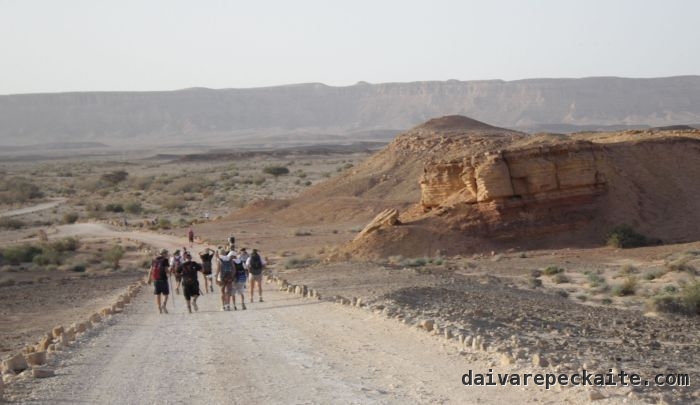 Having no place in the camp, we settled for sleeping under the sky. Friendly workers of the campsite gave us mats, and we had our own blankets.
The campsite is a part of the Makhtesh Ramon nature reserve. There are six campsites and three main trails. The entire trails take several days, but many travelers are brought by buses to specific sites. Tourists explore the colorful landscape of the desert. Early spring is the best time to go there, as there is a chance to see some desert plants, excellently adapted to the scarcity of water.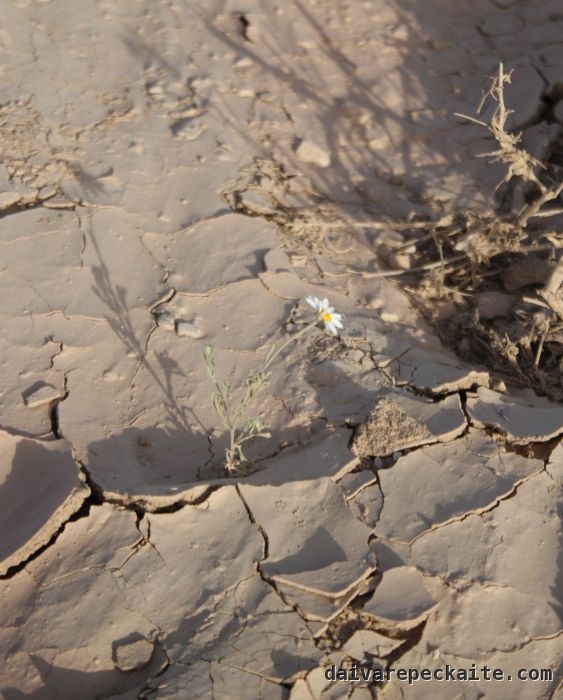 Right now all life on the desert is preparing for the hot and dry season.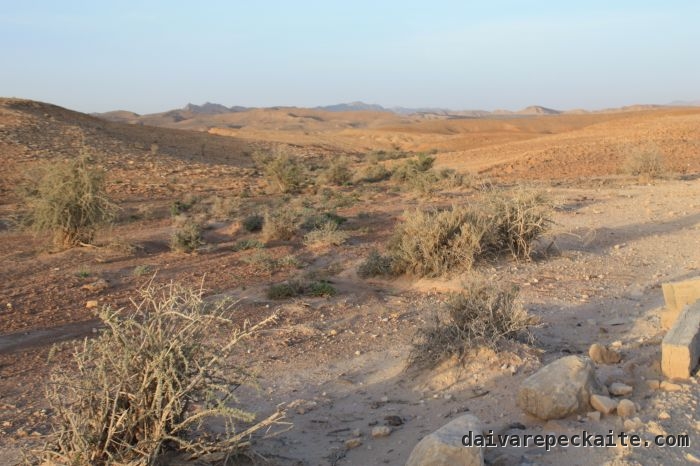 This year a sudden 'attack' of locusts worried the locals, but we didn't see any of them. The desert is home to foxes, gazelles, desert rats, ibex, vultures and some species of birds. Some of the animals are typical for Central Asia and savannahs of East Africa. We didn't manage to see any interesting animals, but during the night the howl of jackals created a mysterious and not entirely pleasant atmosphere.
In the absence of light pollution, stars of various brightness levels are visible at night. They look as if someone stopped a snowfall and push one to think of philosophical questions.
One of the must-sees is sunrise on Mt. Ardon. But the sunrise is beautiful anywhere in the desert. Around 5 am the color of everything changes.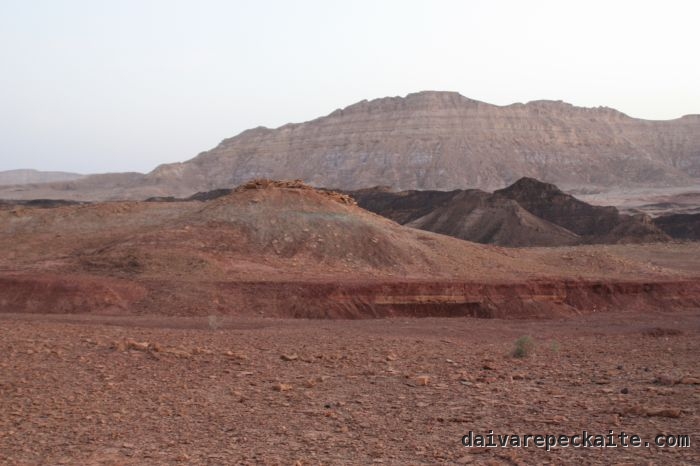 The sun peaks over the hilltops.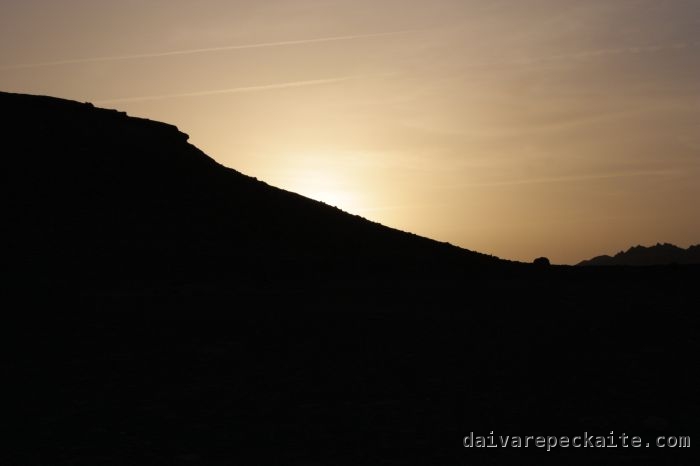 Recognizing the familiar desert as its property, the sun quickly re-colors the landscape again…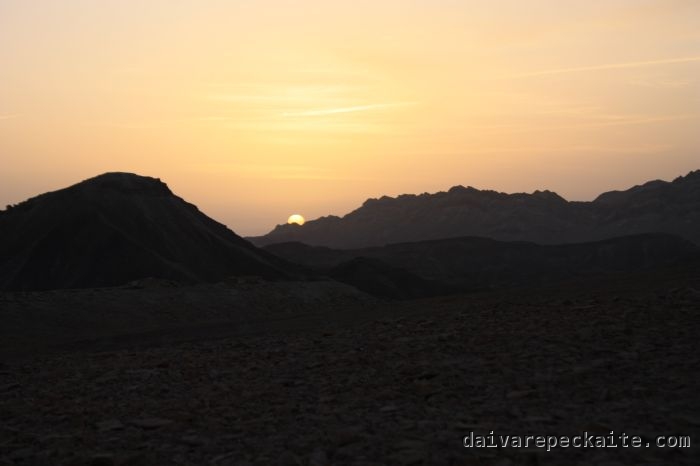 … and then life goes back to normal.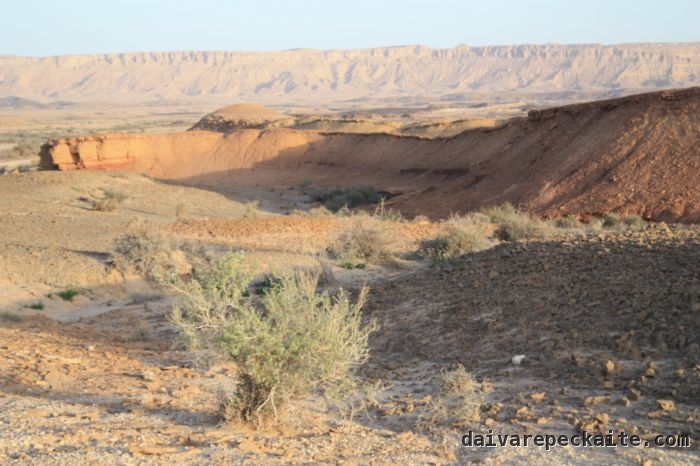 After breakfast with the friendly staff at Be'erot, we moved on. We got a hitch on the unpaved road in a car trailer and watched a truck pass by with the luggage of mostly American taglit tourist, staying at Be'erot. The car trailer was our last successful hitch. We stood on the road in the heat for a long time and eventually, when a bus to Be'er Sheva showed up in the distance, gave up and took the bus instead. From Be'er Sheva, it's only a short and comfortable train ride to Tel Aviv. Needless to say, sun-baked Tel Aviv felt stinky after a night in nature.