Luxembourg is not frequently visited by tourists, and I have an impression that the country doesn't promote itself as a tourist destination. Why should it? The world already comes there to pick up the paycheck. Germans go there to fill the tanks of their cars (lower taxes). Streets are already overcrowded with people who commute to the tiny country from its larger and cheaper neighbors. And yet, Luxembourg's tourist destinations shouldn't be missed. Most of them are outside Luxembourg City (I have already written about Esch-sur-Alzette).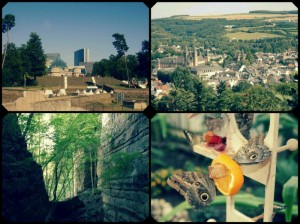 Click on the image to enlarge it.
Top: Kirchberg quarter and Echternach, bottom: the Little Switzerland and Grevenmacher butterfly garden.
The most impressive sites in Luxembourg, and one of the most impressive in Europe, is the Mullerthal Trail, which crosses the so-called Little Switzerland – a rocky area at the border with Germany. We did the Echternach-Berdorf part of the trail. This trail is very easy and even children could possibly do it. There is a clear path in most areas. The only difficulty might be finding the trail where it begins. [Click on the images to enlarge them]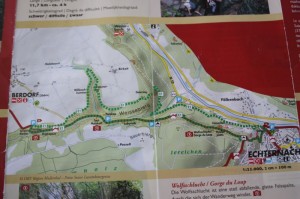 Echternach, where the trail starts, is the oldest town in Luxembourg. Its main sites are the romanesque basilica and abbey (trust me, it took some time to find an angle to capture it, because it's surrounded with other buildings and the sun was shining from behind it):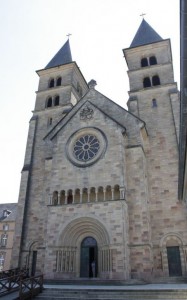 … and the Gothic house, which turns out to be fully used and looks like an ordinary house. We didn't notice it as we went.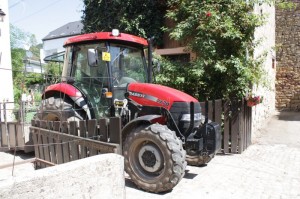 People of Echternach are used to inhabiting very ancient-looking spaces. Since the town is close to the border with Germany, waiters speak German and you can see more interesting people than generally in Luxembourg – there are actual bikers and punks (after spending time in Luxembourg City my eyes were missing them a lot).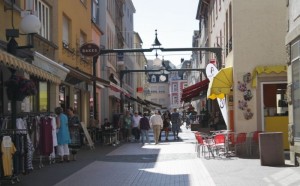 Apart from some interesting details…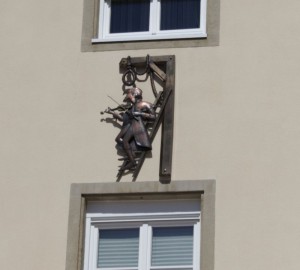 … and some creative iconography…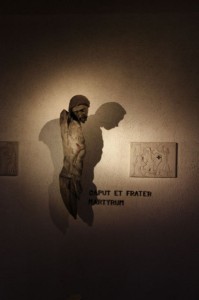 … the town itself is like any other Luxembourgish/West German/East French town. The tourist office of Echternach can provide maps and tips, but the trail is the main thing to see. Echternach looked nice from above as we started the trail.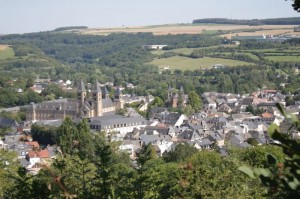 We went in and suddenly found ourselves in Jurassic Park. Rocks formed various objects that looked like monkeys or buffaloes, and tiny rivers were streaming across the path.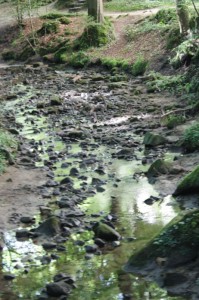 Nothing to worry about – there is a pair of watchful eyes observing everyone.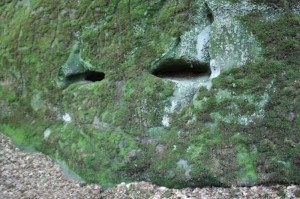 The trail has several objects designated on the map. One of them is the Wolf's Throat with extremely high rocks and a sort of a labyrinth.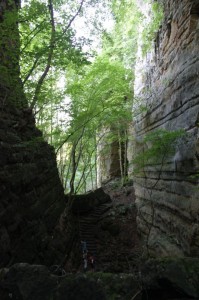 The tiny colorful dots are people. This rocky garden of Eden is surprisingly well preserved, probably because there aren't too many tourists. The rocky landscape with streams was used for building mills and must have been more exploited than it is now. And it wouldn't be Luxembourg if there weren't little notes explaining why this particular fern grows there.
But when you see a tunnel, it means that the journey has almost come to an end.
In fact, when you leave the forest where the trail is hiding and enter Berdorf, the next village, rocks are entirely invisible.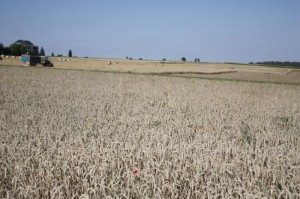 Both Echternach and Berdorf are accessible from Luxembourg City by bus.
Update: here are some tips in German on choosing different routes on the trail.