Luxembourg is not frequently visited by tourists, and I have an impression that the country doesn't promote itself as a tourist destination. Why should it? The world already comes there to pick up the paycheck. Germans go there to fill the tanks of their cars (lower taxes). Streets are already overcrowded with people who commute to the tiny country from its larger and cheaper neighbors. And yet, Luxembourg's tourist destinations shouldn't be missed. Most of them are outside Luxembourg City (I have already written about Esch-sur-Alzette).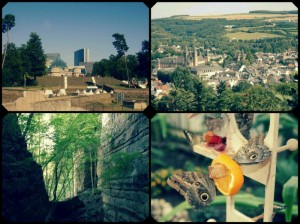 Click on the image to enlarge it.
Top: Kirchberg quarter and Echternach, bottom: the Little Switzerland and Grevenmacher butterfly garden.
The most impressive sites in Luxembourg, and one of the most impressive in Europe, is the Mullerthal Trail, which crosses the so-called Little Switzerland – a rocky area at the border with Germany. We did the Echternach-Berdorf part of the trail. This trail is very easy and even children could possibly do it. There is a clear path in most areas. The only difficulty might be finding the trail where it begins. [Click on the images to enlarge them] Continue reading →