People go to Luxembourg to earn money or to buy cheap fuel – the rainy country is not a popular tourist destination. But people who already live there tend to travel quite a bit – travel inside the country, which has the highest GDP per capita in the EU, is obscenely cheap (EUR 1.3 to go by train or bus anywhere in the country), and since Luxembourg wasn't exposed to wars that much, it has many well-preserved small towns. I have already written about my trips to Echternach and down the Mullerthal trail, and to Esch-sur-Alzette. When I visited a tourist shop in Luxembourg City with my friend, we took note of which towns were marked on magnets with Luxembourg map, and one of them was Vianden. With the help of Wikipedia, we found that the town is famous because Victor Hugo once lived there, and because it has a well-preserved castle. That sounded interesting enough.
All the Victor Hugo stuff could potentially be interesting to passionate fans, but I'm not one, and neither were my friends, so we went straight to the castle. It is a cute little castle – nothing too special if you have seen castles in Europe, but there is a lot of art inside, so it takes a while. The view from the castle is nice too (click on the images to enlarge them).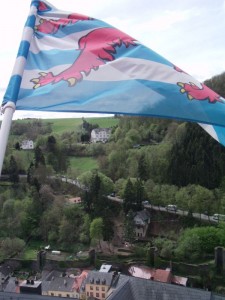 There are four main tourist attractions: the castle, the Victor Hugo museum, the chairlift and a cinema-themed cafe. The chairlift was my absolute favorite. Locals have to get used to the fact that it is immensely popular.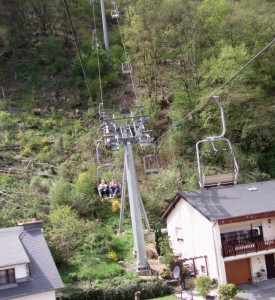 From the top it looks like this.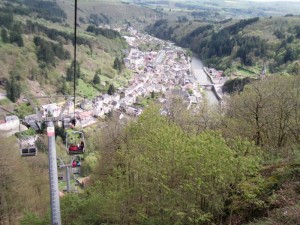 And on the way down (or up, but I suggest taking it downhill), you can see, hmm, very different houses.

The cinema-themed cafe is close to where the bus to Luxembourg City stops. They offer a puzzle, which consists of a set of pictures from various movies. Those who guess a certain number of the movies (I think it was 10 of 15) win a prize. There is a special printed puzzle for children. We didn't solve it, although we were many people, including many movie fans.
Would I recommend visiting Vianden? On a sunny day, if you are already in Luxembourg, sure, why not? One can travel indefinitely around Luxembourg, and there will always be some cute towns to visit. Among other things, Vianden was established in 698, the construction of its castle was started in the 11th century, and Victor Hugo was so impressed by Vianden that not only he wrote about it, he also drew sketches of it (I didn't know it before).