Between two listicles in The Guardian recommending Ohrid in North Macedonia as a top holiday destination (2016 and 2017), the price of the newspaper's recommended hotel seems to have doubled. This tiny detail reveals that the country is basking in attention, and having it on one's list of places visited is no longer a badge of off-the-beaten-track travel. Thanks to direct flights, many people visited the country and continue singing praises to this day. And why wouldn't they, given that N. Macedonia has mountains, greenery, water and city life to enjoy?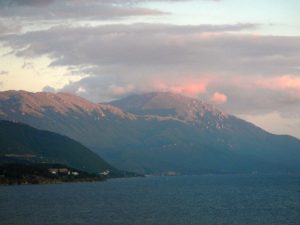 Click on the images to enlarge them
Skopje has a reputation of being a quirky city. After seeing most of its historical buildings swept away in an earthquake in the 1960s, the city first toyed with building something new and then went on a restoration and embellishment frenzy. Local friends tell me that, regrettably, many of the newly-built landmarks were outsourced, keeping local talent locked out of opportunities to shape the city.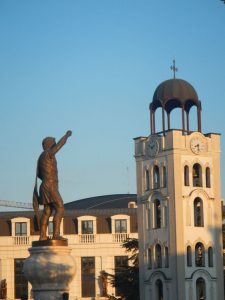 One of the landmarks that perfectly matches today's culture's preoccupation of all things 'ironic' is the Warrior on a Horse statue. Not officially named after Alexander the Great, it is enough to anger Greek nationalists. It will not excite those who seek ancient monuments and authenticity, but it will please those who enjoy the in-your-face quality of the city's efforts to rebrand itself and confidently craft the identity it wants for itself.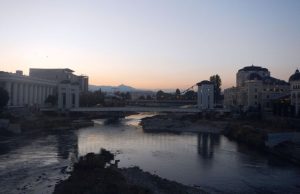 After the earthquake, famous Japanese architect Kenzo Tange was commissioned to redesign the city centre, crafting a painstakingly modern city. Tange recognised that the old city was built around the central bazaar, and kept it intact. The area around the river was kept as an open public space. A 'wall' of residential buildings surrounded this area.
Tange's plan never fully materialised, and various political influences interfered into attempts to give the city a consistent look. The eclectic processes of rebuilding and reimagining the city justified the erasure of its Ottoman heritage in most places at the time, but the tourist boom is likely to make city planners reconsider this attitude. Ottoman planning anywhere in the world is great at accommodating travellers. One can easily see it in the careful placing of drinking water fountains around mosques and in other public spaces. Tourists predictably love Ottoman heritage, with its winding streets, graceful mosques, and helpfully placed water sources.
The bazaar, as well as the large modern spaces on the other side of the Vardar river, are full of life when evening settles and people gather to enjoy a meal and a late-evening conversation in the city's numerous restaurants and pubs.
As we reach the breath-taking Matka canyon together with my local friend G., it is too dark to take mediocre tourist photos. Yet the beauty of the canyon storms all senses – the harmonious structure of the place, the chirping and screeching of various nocturnal creatures, the welcome breath of fresh air for us coming from Malta, and the serenity of the place despite crowds of people (many families were celebrating Bayram) imprint themselves in our memory, and we can only regret not having enough time to enjoy the canyon.
As morning dawns, it's time to travel to Ohrid.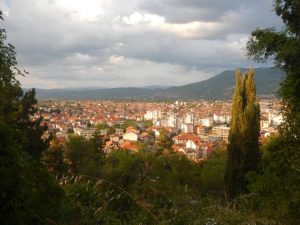 A fortress town near the namesake lake, Ohrid has everything to make a popular tourist town. There are cute B&Bs perched on lush hills and a well-developed tourist infrastructure. From boat trips to paragliding, visitors can find their favourite way to enjoy water.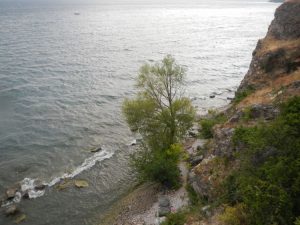 The lake is very large, and we are surprised to see that it has a rhythm of tides. As the sun sets, insects set off leaping to escape the rising water, and frogs come to feast on them. We also saw a snake sunbathing on a rock. The area is among the most biodiverse in Europe, with over 200 endemic species. For us coming from Malta, it is refreshing to observe such a complete food chain in action.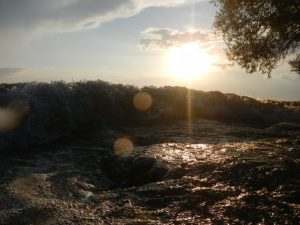 It is easy to be carried away by temptation to relax at the beach or in the lovely nearby forests. Yet whoever is interested in exploring cultural heritage will find plenty of it. I particularly enjoyed a visit to a handmade paper workshop, where visitors can observe the process and choose cute souvenirs made of paper.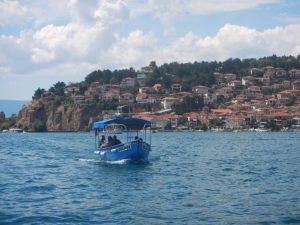 A friend who visited N. Macedonia before me warned that it's best to look for restaurants and cafes on TripAdvisor, as spontaneous walk-ins can lead to disappointment. We were quite pleased with the results of either method, sampling trout, ajvar (bell pepper spread), beans and other local riches in local as well as occasional touristy places. The only disappointment was Coffee Factory in Skopje, a hipster cafe with over-roasted coffee and extremely arrogant barristas. Everywhere else we were pleased with people's fluency in English (even at a low-key and very local bakery) and friendly attitudes.
Nonetheless, as with most trips, a much longer story can be told about things we wished to see but didn't have the time for. G.'s family's beehives. Villages with stern-faced shepherds and tantalising orchards. Forrest paths. Other lakes. All of this makes me think how limited and primitive the idea of an urban getaway is, and how lucky are the people who can be spontaneous and free in their travels. Enjoy it if you can!