It's typical that the best cafes and bars are hidden in courtyards between several apartment blocks, a friend explained as we went for drinks to a trendy bar, complete with trees and a touch of South American fusion in its menu. With many outdoor cafes and bars outside of the tourist area thus hidden, Bucharest's eclectic facades look somewhat grim. But who stays with the facades anyway? Bucharest invites the viewer to move on and search deeper.
When I planned my three-day trip to Bucharest, I knew that it's not famous for its urban beauty. Interesting, quirky, vibrant – those were the more likely words to describe it. Knowing that this is the place where nearly all of my Romania-based friends live, I planned it as the last stop of my trip around Romania. After all the breathtaking beauty of Transylvania, soured by logistical challenges and shockingly bad service, I went there to relax and catch up with friends. Lithuanian readers will hear about my adventures in Transylvania very soon, and here I'll share some memories of the capital of Romania, known for its drastic changes under Ceausescu's dictatorship. Few haven't heard that the Palace of the Parliament is the world's largest administrative building, and Unirii (Unification) Boulevard was built to be just a little longer and wider than Chaps-Elysees in Paris.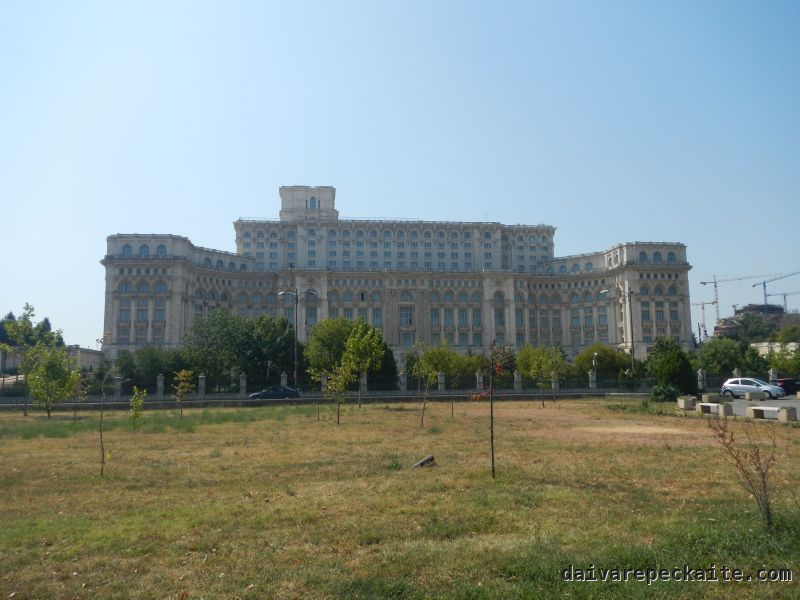 Today the square in front of the imposing structure is full with tourist buses. Entering the palace requires a booking in advance and waiting for a guided tour appointment. Otherwise, they say, it would be easy to get lost.
Unirii Boulevard is strange. There is refreshing shade and cute fountains, but the whole structure with car lanes in between does not make it a pleasant getaway from the urban buzz. There are only a couple of unappealing tourist cafes close to the humongous brutalist buildings (the parliament and the bureau of statistics), and a few minutes later all catering businesses and shops disappear, leaving, for some reason, only wedding salons. It is only closer to the river that this street is bustling with life, and not only cars, again.
Time to enjoy lemonade.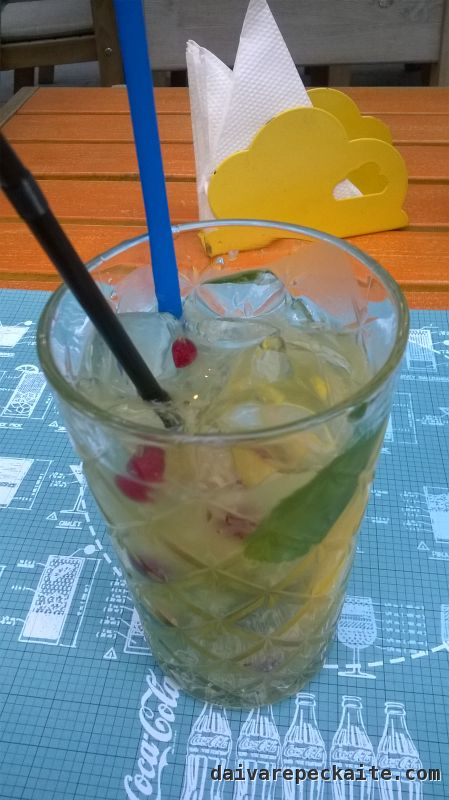 Due to hot weather and great taste of this summery drink, I drank up to three glasses of lemonade every day. I had a nice one at Hanul Manuc, a famous old inn which now serves as a trendy restaurant, but this photo is from Entourage, a hipster cafe outside the touristic center. Red currant berries bring it even closer to perfection. And speaking of hipster cafes, two of my friends strongly recommended AltShift, which is a pleasant cafe and bar with a roof from plants, plus, LGBT-friendly and safe for minorities.
The only problem with eating out in Bucharest and Romania in general is that restaurants and cafes really seem to like their defrosted vegetables. I don't see a reason why they should use defrosted peas and carrots when their country is blessed with long vegetation and lots of sun. When my friend brought me home-grown tomatoes, they were absolutely heavenly and reminded me of the taste that many of us forget if we buy our groceries from mainstream enterprises. Surely there is a market logic to using chopped and frozen veggies, but I hope the hipster logic will soon flush it out.
Speaking more of hipster experiences, I don't think I spent so much time in bookstores in any other city. Bookstores in Bucharest are amazing – they usually serve coffee and allow you to read a book while you drink it, and they sell those gadgets that you never thought you needed in your life, but after seeing them, you cannot leave the shop without one. Clever.
Having the time, I spent nearly half a day at the National Art Museum, looking at both classical Romanian art (which is super exciting in the Middle Ages, somewhat cliche thereafter, and interesting again when it gains a contemporary twist). Medieval drawings and paintings had an inspiring comics-like minimalist touch, and even icons expressed more emotions than they usually do. Yet eventually and up until the 19th century, it seems, this form of art stagnated, characters developed this typical resigned and bored look, and the works were only getting richer in details and gold. Romanian artists seem to have discovered impressionism in the 1930s, and there are ample works that show how well it suited local landscapes and characters. The topic of the temporary exhibition was black romance – very goth and somewhat cute.
Another museum that I visited is a privately founded Kitsch museum. Located in the tourist district, it offers a charmingly messy collection of various kitsch objects, allowing visitors to interact with them, play around and take photos. The Dracula collection could be better organized, but otherwise is well-placed.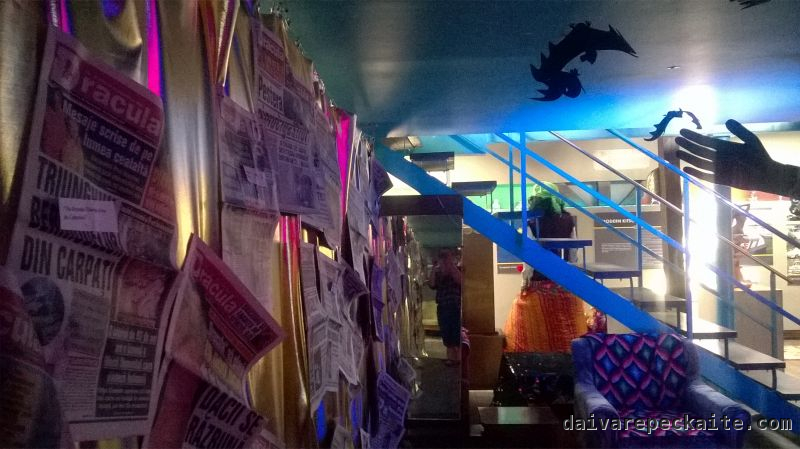 There is a huge section on communism, which is very ideological. It says that communism is kitsch in itself, and, obviously, with the preceding and later displays of capitalist kitsch did not say anything similar about capitalism. I really liked the party leaders' speech generator. And then came another section – on 'Gypsy kitsch'. It was full of prejudiced images and objects relating to the Roma people, with attempts at political correctness in the accompanying text – that they have a different culture and so on. This is just another example of hipster ignorance and refusal on the founders' part to educate themselves about history and social impact of seemingly innocent stereotypes. In a country where the Roma people were enslaved for centuries, are still discriminated against and, in many cases, excluded from mainstream education and services, it's not acceptable at all.
Some remarkable objects are a giant sculpture diptych of a famous playwright and his characters close to the national theater, an old musical instrument shop nearby, and a pond inside Cismigiu park, where people are having fun rowing small boats.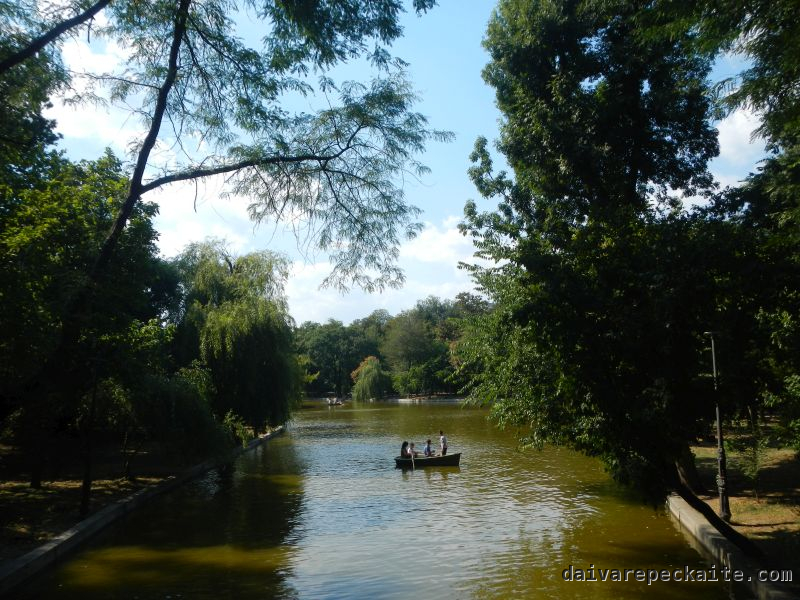 Even in overdeveloped neighborhoods there are details to enjoy. For my part, I really appreciated reflections of old churches in steel and glass windows. As one of my local friends said, Bucharest is eclectic, but perhaps this is what makes it unique.