The best excuse to explore more of one′s country of residence is teaming up with people who are there for a very short visit. This is how I set out to explore the famous South-Eastern areas on a warm and lazy Sunday. Specifically, the fish market of Marsaxlokk has become a popular tourist attraction, and as for Birzebbugia, I did not know what to expect at all.
My first impression of Marsaxlokk was that it was shockingly hipster. I realized that I hadn′t seen such a concentration of hipsters anywhere in Malta. Whatever their lifestyle, the faux-lumberjack look is not popular with the Maltese at all. Accordingly, hipster men were in a company of colorfully dressed women, who would otherwise not stand out as much. There were many elderly tourists, too, probably English, given how much they had undressed for the bright but still not so generous Mediterranean sun. And some local families, too, looking for a bargain.
Marsaxlokk has a long history as a fishing village, but now fresh fish and writhing octopi compete with tourist souvenirs, such as kitchen aprons with Maltese recipes. There is a section of the market with cheap electronics and mobile accessories. People in colorful, but definitely not hipster clothing sell sunglasses, and I believed they were Senegalese, very much like elsewhere in Mediterranean countries (Spain, France and Italy), but not elsewhere in Malta. When my companion started a chat with one of them in French, she confirmed my guess.
Since looking at ships is one of my favorite activities in Malta, I made sure to enjoy it in Marsaxlokk.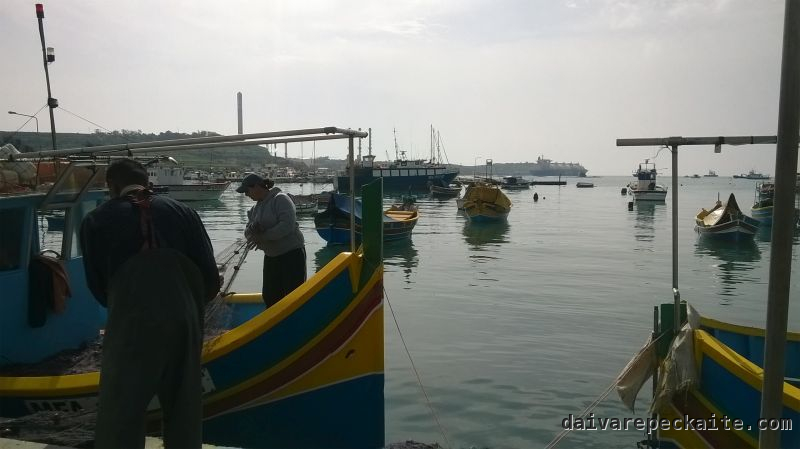 When one of my companions wanted to buy some local sweets, he was read as a tourist, and the price he heard was predictably ridiculous. It is best to approach the sellers having made some market research on the objects one is looking for, or to go with a Maltese or Maltese-passing person. Alternatively, visitors can practice their Oriental bazaar bargaining skills, but I am still to see how this works in Malta, if at all.
When we started getting hungry, we returned to the place where the market meets the main square. There is a Costa cafe on one side, and a nice-looking restaurant, I believe called Ta'Victor, on the other. As we sat down at one of the restaurant′s tables and tried to catch a waiter′s eye, the waiter was lazily tying his shoelaces and just idling by the door. Eventually he showed up just to place a ′reserved′ sign on our table. He went away without explaining.
Having a good laugh about the local attitude to service, we asked him at the next opportunity whether we could order something. The waiter said no, because the table is apparently reserved. Obviously, he would not waste his precious idling or shoe-tying time for overrated phrases like "I am sorry" or "Let us see what I could do for you." There was plenty of space in the outside part of the restaurant. Yet the waiter went on to kick out a couple of tourists at the next table. So in case you are looking for a place to eat in Marsaxlokk, run away from this place as far as you can. There is certainly no shortage of restaurants with more bearable service than this one.
After our lunch, we drove to a nearby town, Birzebbugia. It is mostly famous for its sandy beach, called the Pretty Bay. My pleasure of looking at ships was taken to a next level.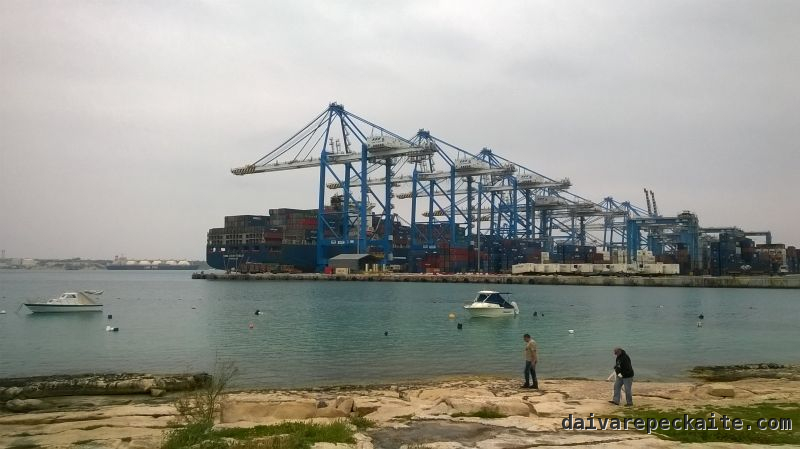 We had another good laugh at the laziness of local service at a nearby cafe, and the only fast-moving being there was a large cockroach in the bathroom, but otherwise the place was pleasant for chilling, and it is clearly enjoyed by locals and tourists alike.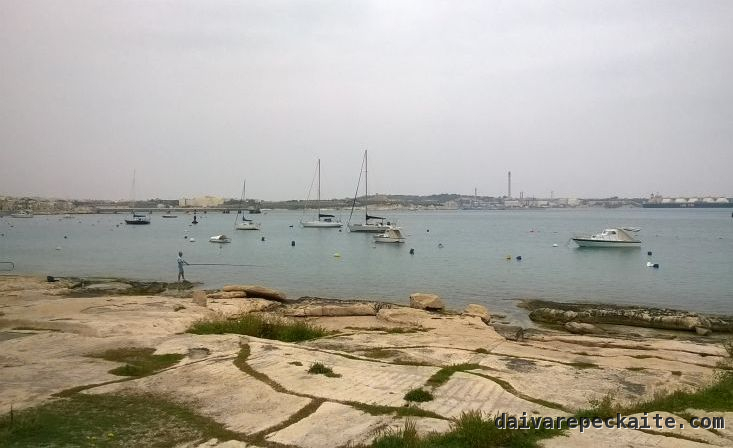 I am still to explore the prehistoric side of Birzebbugia′s heritage and more of its architecture. But I believe that this town would be excellent for a picnic – for enjoying the sights without having to deal with local restaurants.