Coffee is said to be more addictive than weed, but it is one easily accessible and unregulated drug that people can enjoy around the world. I was never a fan of coffee until I started working at a newspaper at the age of 20. My parents were used to drinking pour-over coffee, and even when they got access to machines they never appreciated those. In my family coffee was something people could drink at any time and in any shape (culturally, serving coffee in the evening means that the party is over), so first encounters with Italian culture, where you′re not supposed to drink cappuccino after a certain hour, were quite a cultural shock. Yet this is nothing compared to the shock of one Italian academic, who moved to Oxford 20 years ago and told me that not only she could only find olive oil in pharmacies, but you could actually see a spoon through the surface of your coffee!
Lithuanian coffee culture has changed tremendously over the years. We inherited a kind of careless attitude, where cafes used to go for instant or serve something similar to what we typically get at conferences. However, the nascent middle class was craving to show off its cosmopolitan identity and started to shame everything about food culture that separated this region from the most sophisticated traditions of the west. Now central Vilnius is littered with home-brew cafes, to the point that one foodie called it "the Vatican of coffee". Coffee culture in Lithuania is more or less like in the Francophone space, with high prevalence of grand cafe serving the convenient middle ground between espresso and americano – just as I like.
Coffee is in many ways an identity marker. When a Spanish friend, who was volunteering in Belarus at the time, stayed at my place and was almost preparing to make himself instant coffee in the morning. "Don′t you want to use the moka?" I asked. "Wow, I really came back to Europe!" he rejoiced. I missed European coffee a great deal when I traveled in the US, Azerbaijan or Thailand. Yet Italy and Portugal were also sub-optimal for me, as everything that allows for a ritual is with milk. Living in Luxembourg, where grand cafe is available everywhere, was perfect in this sense.
I blogged a little about coffee in Cyprus. In Thailand I was lucky to have a chance to interview the founder of Akha Ama, a social business that promotes coffee growing in mountainous regions in a way that does not disrupt traditional lifestyle. This summer I visited Greece, Turkey and Kenya, three different places to explore coffee culture. It′s easy in Greece – any coffee ranges from quite nice to great. This is at a cute family-owned place in Kos town, in front of the post office and not far from the bus station.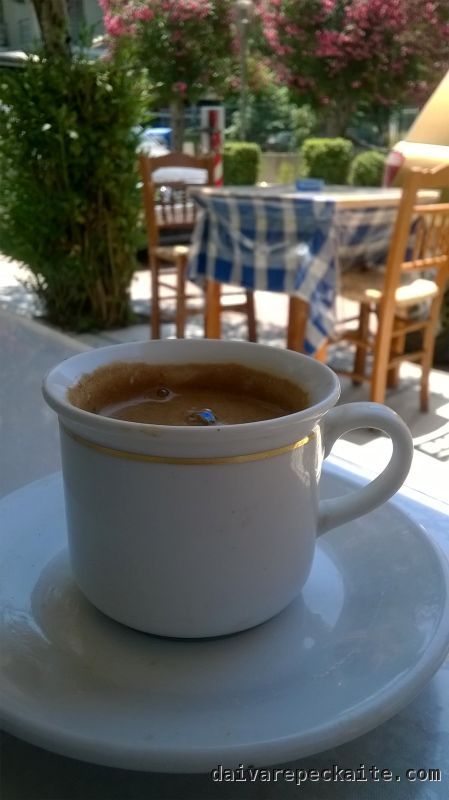 This is another thing – if I have to drink 'short' coffee, I prefer Turkish to espresso any time.
In summer ubiquitous frappes made us laugh at our failure to bust stereotypes about the Greeks on this trip. Frappe-drinking Greek is an image invoked in the North of Europe to make a point about austerity and external control of the Greek economy (my article about some of these aspects in the New Internationalist here). The funniest incident was when we left the island of Kos to go to Turkey and then returned to Greece, but landing on the island of Chios, and we had to wait in a crowded room until someone comes to check our documents. As we were finally let out through what turned to be a wrong exit, we saw frappe-drinking officers slowly walking around, surveying the place.
When I asked for a milk-free frappe at cafes, it always had a rich foam but it seemed to be instant.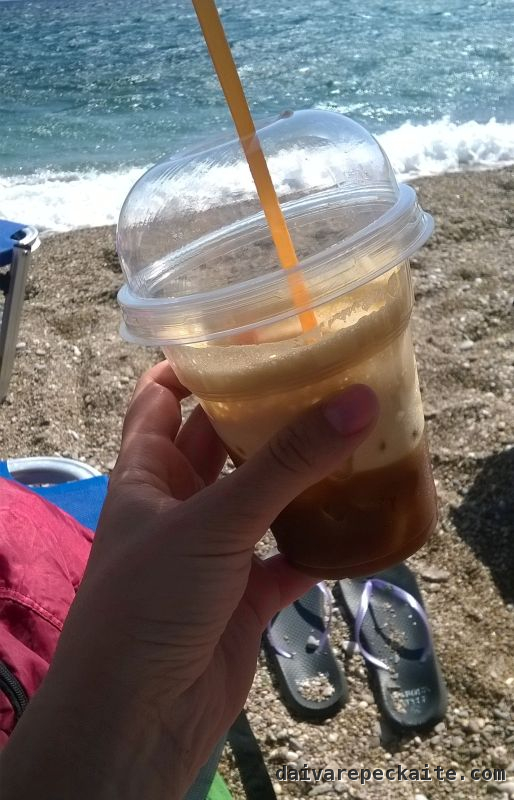 The most special frappe is this – made by a volunteer at City Plaza, a giant squat that hosts over 400 asylum-seekers in Athens. "We're out of ice, so your frappe will be lukewarm," he warned.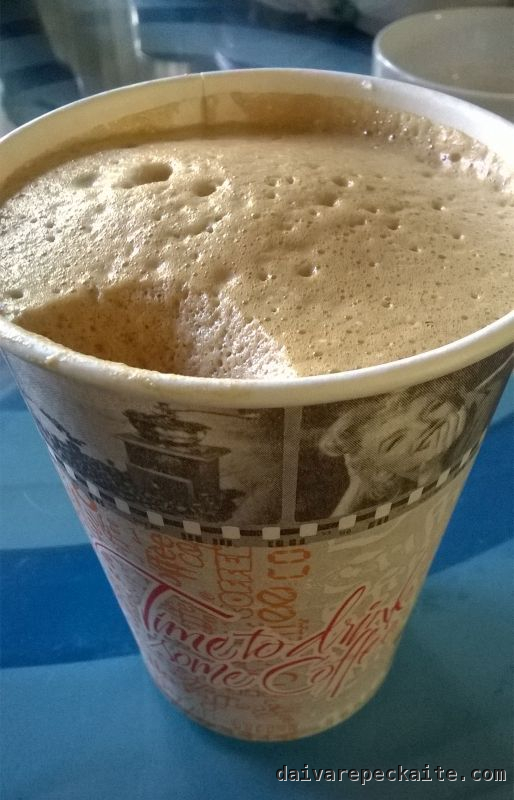 The squat has occupied a hotel that stands empty as its owner is facing trial. Volunteers are organized into catering, security and other teams. I had this coffee while chatting with a member of the security team, an enthusiastic student, who was guiding his two friends from abroad around the squat.
In Turkey our coffee choices where much more obvious.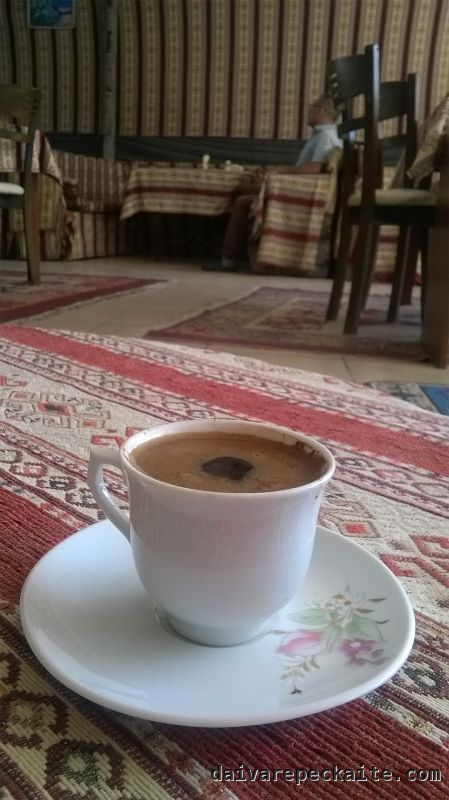 This is the cup I had at Yildiz, a cute family-owned restaurant in Pamukkale, where my friend and I dropped by for a morning coffee before leaving the must-see town. The restaurant′s friendly hostess chatted us up and told us about the crepes she makes. We were immediately seduced and stayed for a delicious breakfast.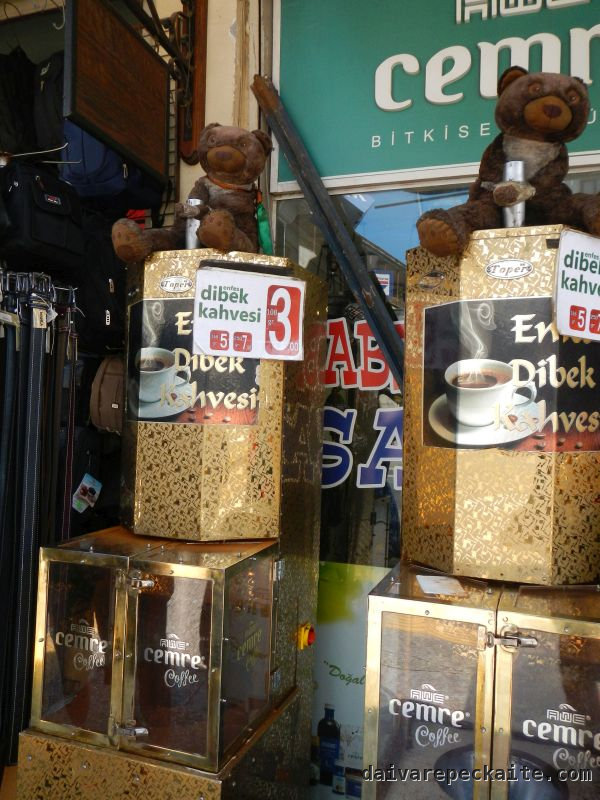 With so much good coffee around, the business must be pretty competitive in Turkey. This shop advertises itself with a robot teddy, serving as a coffee grinder.
Next stop: Kenya. I went there with high hopes to enjoy good coffee every day, since East African coffee is appreciated worldwide. The first days left me worried (my friend was pretty happy with coke for her daily caffeine, but not me!). On the first day in Nairobi, our Couchsurfing hosts informed us that instant coffee, or none at all, is the standard, and to drink brewed coffee we need to go to special chains. That is, hipster cafes. We tried Java House, where they serve all European types and americano. Coffee costs the same as in Lithuania and around, and the atmosphere is also similar to freelancer-inhabited cafes in European or American cities. Some places have their special recipe – Malindi coffee, which is with ice and cinnamon and can be made with soy milk at no extra cost. That part was something I really appreciated in Kenya.
Interestingly, one day this person with a Java uniform yelled at my friend and me as we were walking on a street side-by-side. "Wazungu! [= white people]" he shouted and said something in Swahili as he pushed past, presumably, "get out of my way". Of course, catering workers are not obliged to be polite outside of their workplace, but it made me contemplate that people should be a bit more careful when they wear a uniform. Many strangers have been rude to us during this or other travels, but I will always remember this incident as "that Java House staffer who was rude to us on the street."
Another network is Kaldis, which is very similar. Will we only have satisfactory coffee at hipster places? Apparently, finding good coffee is a matter of thorough internet search. As both my friend and I are huge fans of the Ethiopian cuisine, we did not hesitate to indulge in it at Abyssinia, a cozy Ethiopian restaurant in Nairobi (more about our culinary adventures in Kenya on Ugnė's blog). It did not disappoint. Coffee is rich, with a long-lasting pleasant aftertaste, and is offered with a ceremony.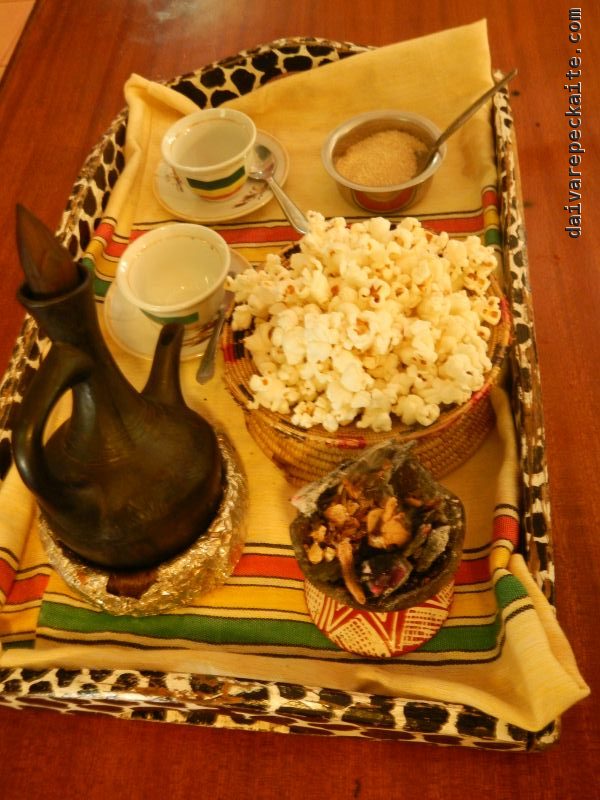 Our another try at Dass in Westlands was less successful. Coffee was strong, but blunt. Its aftertaste was better than the taste.
In Mombasa, with its strong Arab and Indian influences, I expected more options, but we spent hours cruising the area around Mombasa Tusks monument in search for a place with brewed coffee, wi-fi and a functioning bathroom, but did not find any and had to settle for juice.
The next time we set off to Mombasa city center, my friend decided to go better prepared, and so we discovered Jahazi, an amazing place with several coffee blends and delicious desserts. We tried both the rich and strong swahili coffee, and sweeter, scented tamu coffee (below).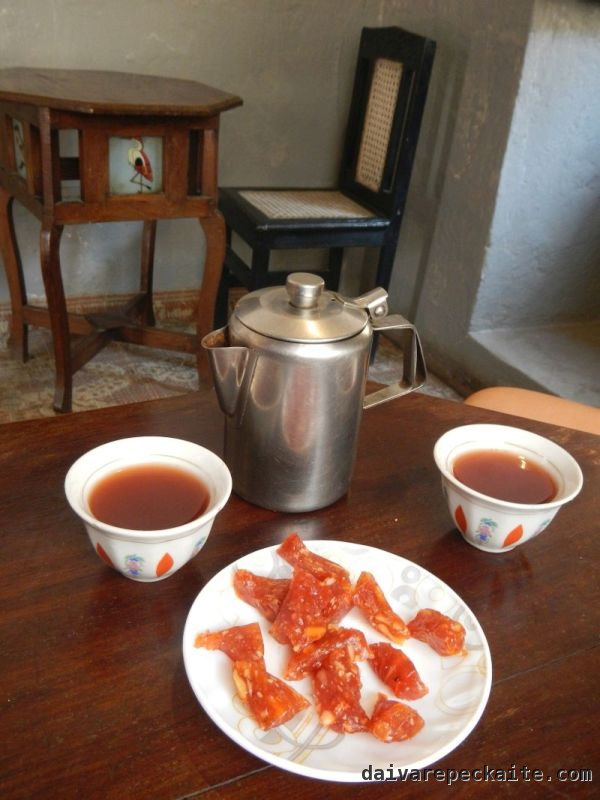 And here is the highlight of my coffee-related explorations in Kenya – camel milk latte at Valley Coffee&Shake! Camel milk is famous for its antiseptic properties. It has less lactose than goat milk. Yet despite all the good things, it tastes strange, especially in latte, so to comfort me, Ugnė was reading fun facts about camel milk while I struggled with it, sip by sip.
Anyway, good coffee can be found, it just takes a bit of homework to locate the right places. When we tried buying coffee from supermarkets, the one we picked was so bad that we could not bring ourselves to drink more than one cup. Our local friends then told us that we need to search for reimported coffee, which costs the same as Tanzanian blends we can find at home. Yet my friend bought a pack of 'Masai coffee' at the airport and seems to be quite satisfied with it.
Wherever you are in the world, I raise a cup of coffee to all the lovers of this drink who read my blog!