I have to say I didn't quite make friends with LA, because it was very difficult to navigate without a car, and reading a guide book scared me a lot – there was an extensive list of where not to go alone, where not to go in the dark, and where not to go at all. But fortunately, I did make friends in LA – for which I'm very grateful.
Feeling a bit tense, I wrote to a few people on Couchsurfing and got some responses, but only one person found the time to meet up. I met the CSer twice, and he was very kind to show me various things and drive me around when he had time after work. It was doubly interesting to hear his perspective, since he is one of the young people trying to "make it" in LA: he works as an actor, but to balance his income also does camera work and editing. This gave me an idea of the supply chain at work in the huge city with a lot of talent.
I arrived to LA by bus from San Jose. I was slightly worried how I will move around after reading about how many dangerous areas there were in LA, where I am not supposed to set food even during the day. The station area looked quiet, there seemed to be a few homeless people, but that's typical of stations everywhere. The station also had an interesting design, but I only saw as much as I was waiting for the CSer to arrive – I was so lucky that he suggested we meet just after my arrival. He drove past the Downtown, which is the business area and quite empty after working hours. Then we went to one of the Japanese neighborhoods, to visit an izakaya, to look at Japanese stores and karaoke bars.
The second day we agreed to meet in Hollywood. I had to take a bus to reach it. It took a long time for the bus to arrive. In fact, when I saw the right number, I was fortunate enough to ask the driver for directions, because it appears that different companies can run different routes with the same number! Some other people were waiting for the bus. One of them asked me if I spoke Russian. When I answered positive, she continued in English, before eventually switching to Russian, to ask how to get to Hollywood, and, since I was going there myself, we had a long chat on the bus, which made the bus ride much more pleasant. It turned out she worked for the Russian gas monopoly and came to LA to study English. "People don't seem to be very stylish here," she remarked. I looked around and said that we were only seeing workers who probably don't own a car, plus kids who couldn't drive yet. As I was watching the houses in the affluent neighborhoods that we passed, I thought that, as it seemed, the measurement of wealth was the distance from the closest neighbor. That's what made LA so spread out and difficult to navigate. The bus didn't have bus stops as I'm used to, instead, stops along the way were identified according to intersections. As we arrived, the are didn't seem creepy, but it wasn't pleasant either. It seemed that people were just rushing by, although there was a large parking lot. Hollywood was a couple of blocks away. As I was waiting for my friend, a very pink drag queen complimented on my scarf.
When the CSer arrived, we went to take pictures and make fun in iconic places. The streets were full of people, inevitably, and various businesses and individuals were trying to make money in every possible way – often quite creatively. There is a business that photoshops people into photos with celebrities, and there is a museum of weird things, like portraits of celebrities carved out of telephone books.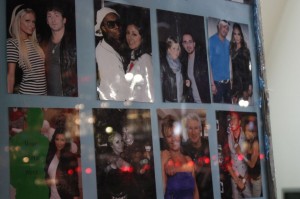 A dull copy of this is Times Square in New York, which is very boring in comparison. In general I'm not sure it was a right decision to leave NYC for the end of the trip. Perhaps I was overstimulated by the time I got there, but I found most of the things people talk about in NYC overrated, boring, cheesy or in other ways disappointing.
We saw a museum of various weird things. The free part of the museum had portraits of celebrities carved from telephone books. There was also a real-size statue of the tallest man on earth.
After the tour we went to a family-owned Korean restaurant in West LA. There was an option to cook food directly on the table, like in the Japanese shabu-shabu (I forgot what it was called in Korean).
The best part of my trip to LA was a visit to the Hammer museum. It hosts a private collection with three paintings of Van Gogh (one of them is my new favorite from his work) and one by Moreau. Among the temporary exhibitions we saw Quincy Jones's communal architecture projects and a wonderful collection of Richard Artschwager's work (paintings, sculptures, photography and installations, created over six decades). Artschwager used horse hair and other unusual materials, and the main theme of his work was urban alienation. Some of his works look functional and designed to use at home, but they look like antonyms of coziness, such as "Breakfast for an enemy". After the exhibition my friends and I stayed a bit to chill out and had French fries at the museum's cafe (they were very thin and tasted "vegetable-like" – they obviously had just a fraction of the starch of a Lithuanian potato). Still, as we got close to where we were staying, we went for a proper meal at Native Foods – a vegan restaurant close to the UCLA campus.
On the last day in LA I went to Santa Monica to enjoy the beautiful beach view (the best part is a hill descending into the beach) and nice food (I thought that this will be the place to eat a good-quality real American burger). The beaches were surprisingly clean. But getting there was a headache, so I guess mostly people with cars go there too.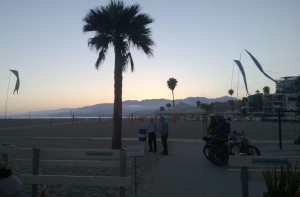 I got an impression that neighborhoods rather than objects are the main things to see in LA, and people-watching is the best form of tourism. For such a famous and touristic city, it was surprising that there were so many active CSers. I could even cherry-pick people with specific interests – in my case, those who study or otherwise speak Japanese. I spoke Russian, German and Japanese in LA – as my trip continued, I used all of my languages, which is quite unique.
In short, I think a 'pointilistic' impression of LA is inevitable. It has a high concentration of culture in the broad sense, and this is what I will always remember positively – the UCLA and the Hammer museum. The only reason for spending more time in LA that I could think of would be academic – given an opportunity, I would really like to spend some more time at UCLA. Other than that, I enjoyed the Asian presence in the city, and I had a great time there because of the people I met.