Thanks to my friend Amanda, I was able to see different parts of Seattle in a very short time. One of the most advertised landmarks is the Space Needle, connected to the city center by a monorail. The monorail mostly serves tourists – it runs infrequently, and locals enjoy well-developed (certainly according to American standards) public transportation system, so there is no need to take the monorail (below).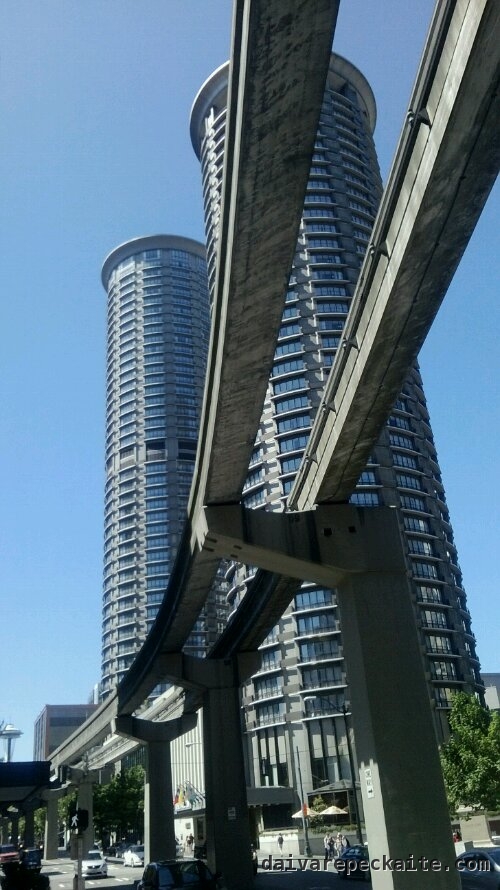 We also went to Pike Place Market, an old public market, which was opened in 1907 and has been a major center of the neighborhood since then. It is the oldest farmers' market in the US. It is very interesting, but it has become somewhat touristic as well, with the famous fish-throwing ('flying fish') routine.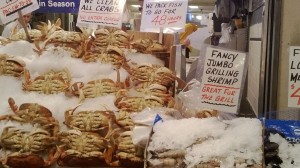 The tradition is that when a client chooses a fish or another product, salespersons give a cheerful shout to each other and toss the item to one another before packing it for the client. Nowadays they do not directly pack the item from the stand – clients get the product of their choice from a fridge, and this is only for display. The flying fish routine is a local pride – I even saw it in the video representing the US at San Francisco airport.
Close to the market, there is a bronze sculpture of a pig, which functions as a piggy-bank. The artist also sold pig sculptures in various styles to raise money (I forgot for what purpose). I also wanted to see the first Starbucks, which still has the original logo. Many people are taking photos with it. Waiters were young and chatty. Holding our cups, we walked around and found a left-wing bookstore. It was a little embarrassing to walk inside with a Starbucks cup in hand, but who cares… I had decided to refrain from buying books in the US – there are still too many that I already own and haven't read, so I just bought a leftist newspaper and a couple of pins.
A different atmosphere met us in Ballard, which used to be a small town, dominated by working-class Scandinavian immigrants, on its own before being incorporated into Seattle. Perhaps for that reason it is built so that there is every service one could think of. It used to be a mixed, partly industrial neighborhood with sawmills and fisheries, and it was relatively cheaper to live there, according to my friend in Seattle. Now many people move there for another reason – it became trendy to live there.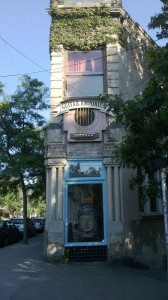 When Amanda was busy, I had some time on my own to look around the campus of the University of Washington and Burke Museum. The campus had a visitors' office, where I got a map and a few tips. I walked around the different buildings and sat in the Medicinal Herbs Park. I also walked into the library, which looked like a good place to study, and it holds a book that until recently was the world's largest published book. It is a collection of photos from Bhutan.
There are many ways to pass the time on campus – walk around, enjoy the parks, sit by the fountain or enjoy the view of the river from a local cafe. However, I was told that the weather is usually not as nice as it was during my visit, so most of the days Seattleites have to look for indoor pleasures.
I really enjoyed the Burke museum, which had a large section on natural history (not as interesting for me, although pieces of lava were impressive), mostly for children, and a section on native art. I particularly appreciated that whenever possible, names were attributed to native artists, not just "tribe X, early 20th century". The museum also presented the struggle of Native Americans for the preservation of their traditions. The special exhibition at the time of my visit was about women's cooperatives around the world. These cooperatives have strongly contributed to transforming the lives and status of women in many communities. They often specialize in various local crafts. One woman in the Himalayas proudly explained that by engaging in craft, selling her work through the cooperative and earning a living, she became known by her own name rather than her husband's name in the community. In Uganda an art cooperative uses textiles for HIV education. What I particularly liked was that the presentations of these cooperatives were not typical feel-good stories. They also asked critical questions. How sustainable is this livelihood, when the most transformative actor in the community, the cooperative, is entirely dependent on either tourists or buyers abroad? Yet those who are not too concerned about how exposure to and dependence on global capitalism shapes the lives of these women can go and buy some of these cooperatives' production in the museum shop.
Amanda told me that one of the things she missed most during her extended stays in Lithuania was good Asian food. It's really hard to find in Lithuania. So I did my best to enjoy as much Asian food during the trip as I could. It seems that Seattle certainly doesn't lack healthy food options. I saw many people biking and jogging. All in all, it seems that Seattle is optimal for relaxed and healthy living. It has an important intellectual center, the University of Washington, good museums, nice parks and great food. I certainly want to go back there.