"…And if you′re planning a stag party, have a nice stag party," a flight attendant said on my Amsterdam-Prague flight. To me, putting the words ′nice′ and ′stag night′ in one sentence is a sign of out-of-the-box thinking taken to the extremes, but I smiled to myself. This sounds very Dutch. After all, Amsterdam ran an information campaign for purchasers of substandard  drugs to seek medical help immediately. What else could the service industry wish typical tourists in Prague, I wondered, remembering my first trip there in 2011. "May the content of your stomach be easy to clean?"
I went to Prague to attend a conference, and decided to stay the weekend after with friends. I was highly motivated to bust the myths I created for myself last time and to enjoy a completely different experience.
The conference was great, and several of us felt that it ended all too soon. We wanted more! For the duration of the conference, I stayed in a cute and cozy hotel Elite. It is close to a large shopping street, a railway station and a tram line, making it easy to reach. Having spent some time in Malta, I genuinely appreciated the pleasures of developed infrastructure. Broad sidewalks invited for a stroll. Punctual trams made it possible to disregard the cold and travel to places in search of good dining and fun. I feasted on delicious drinkable tap water and enjoyed the warmth inside buildings – both in the hotel and my friend′s place. Warm in the room. Warm in the shower. Warm water immediately. This is what civilization should look like.
But on top of these basic things I missed while in Malta, I appreciated the rustic design of the hotel. The best part was a skylight!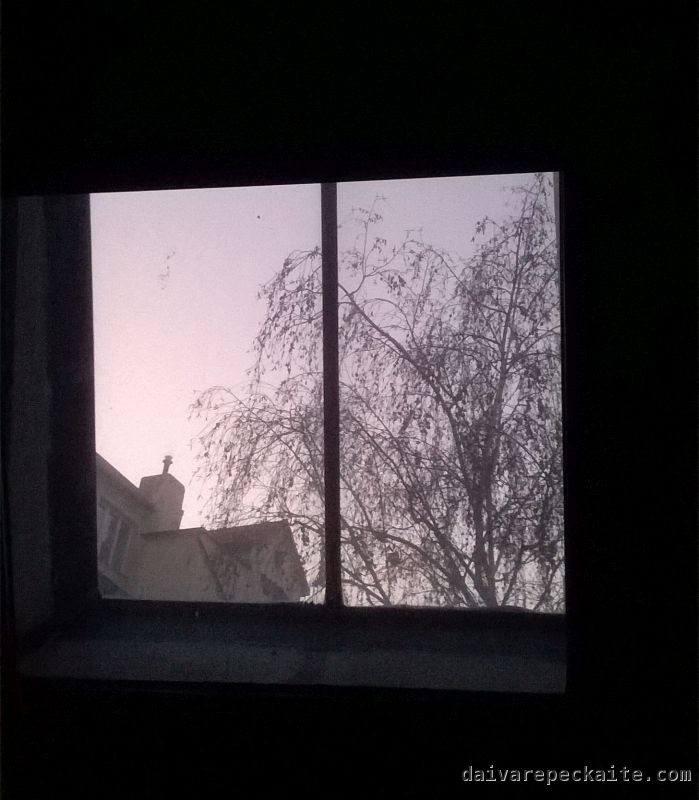 When I was back in the hotel and alone, I thought about exploring the neighborhood′s nightlife. Google Maps showed me that there is a literary cafe just around the corner from the hotel. It sounded very interesting – after all, my impression of Czech Republic is inseparable from its writers. But as soon as I opened its door, I was overcome by the awful stench of the place. Indeed, Czech Republic is probably one of the last European countries to implement the smoking ban, which has made going out much more pleasurable in Lithuania for around ten years. I had to remember what it feels like to stink after going out when I lived in Budapest and Tel Aviv, where smoking bans came later. Yet all of those countries now enjoy smoking-free bars and clubs, so I certainly didn′t fancy sitting alone, surrounded by smoke.
Before leaving this central neighborhood as the conference finished, I made sure to go shopping for various continental products (for instance, travel-optimized hygiene products from Rossmann, which doesn't seem to exist in Malta) and books. As much as I promise myself not to buy books, I often give in to the temptation to bring a local novel from my travels. For Prague, I picked a German translation of Jan Neruda′s short stories – a tiny book, optimal for reading on planes or public transport. In some of these stories, the author (who was also a journalist and a translator) describes bohemian pubs with various characters sitting. I guess if I ever wanted to become one of these writers who tells the plentiful stories from smoke-filled pubs, I would have to overcome the disgust with smokers′ pubs, which I have developed only during the recent years. Maybe I will, but not yet.
Later, my friend took me to Akropolis – a popular bar in an imposing building. The bar was spacious, and smoking didn′t bother me at all. So I guess it is a matter of design. The bar is made for chatting, music is not too loud, and chatty waiters complete the pleasant experience. The downside is, they don′t take cards.
Talking about money, the fun started at the airport. I wanted to exchange a small sum to have local currency for a bus, etc. It wasn′t necessary – there is a ticket shop at the airport, and it takes cards. The staff at the airport currency exchange tried to trick me and another customer into exchanging more. "Do you think this is enough for you? Each time you exchange currency, you lose money, so it′s better to exchange all of it in one go [an utter lie, because normally rates are better in the city]. Travel agencies recommend having at least 50 euros per person per day just for the essentials." I blinked repeatedly. She must be joking. I flew to Prague, not Tokyo. Out of curiosity, I calculated how much I had spent, including the money exchanged and the credit card. Sixty-seven euros over four days. Never trust these people!
"Prague is full of scam," my friend remarked when I told her this story. Her observation is that service providers expect all those flocks of tourist to consume everything, regardless of quality. She said that she has a hard time finding a genuinely creative arts scene. I went to the national museum to see one of the temporary exhibitions, retro. They charge a lot of money for entrance, but the exhibition was simply boring. A few dresses here and there, some cars, lots of lengthy descriptions. Juxtaposition of 1920s-30s and contemporary fashion was interesting, but never fully developed.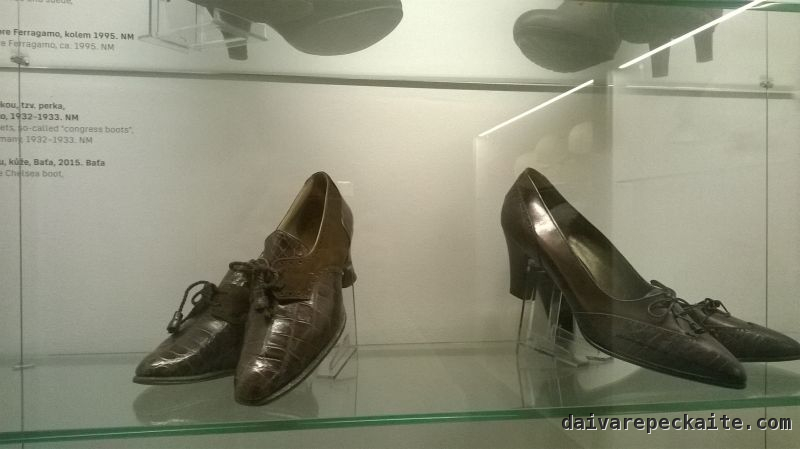 The only valuable part of the exhibition was that it explained the origins of burlesque. Apparently it′s still a thing in Prague today, and several bars specialize in it.
Next, my friend and I went to the TV tower in Žižkov to see the panoramic view of this historically working-class neighborhood. The view, as expected, was beautiful and colorful.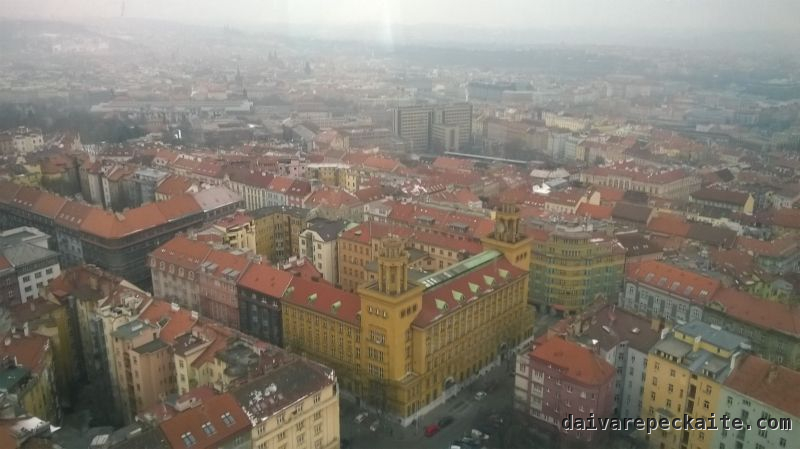 Yet, despite charging 9 euros for entry, the TV tower did not bother to make the visit a fully fledged exploratory experience. Glass windows were dirty, as if making it difficult on purpose to take beautiful photos. Only obvious tourist landmarks were explained, so I was grateful that my friend, a local in Žižkov by now, could compensate for the lack of explanation about the neighborhood. There are some egg-shaped chairs, chained to the ground, which should be fun to swing on while looking at the view… except that swinging is forbidden. One level below there is a very expensive restaurant, but tables are built so low that one does not even see the panorama when dining there.
The TV tower looks like a rocket, but visiting the expensive tourist attraction, I didn′t learn how it came about. There was nothing about the unique patented design of the 1980s building…
… let alone why it stands next to an abandoned Jewish cemetery. I had to look it up online to find out that the cemetery was built in the 17th century for victims of infectious diseases, as the territory was beyond the city boundaries. Later it became the resting place for various known intellectuals.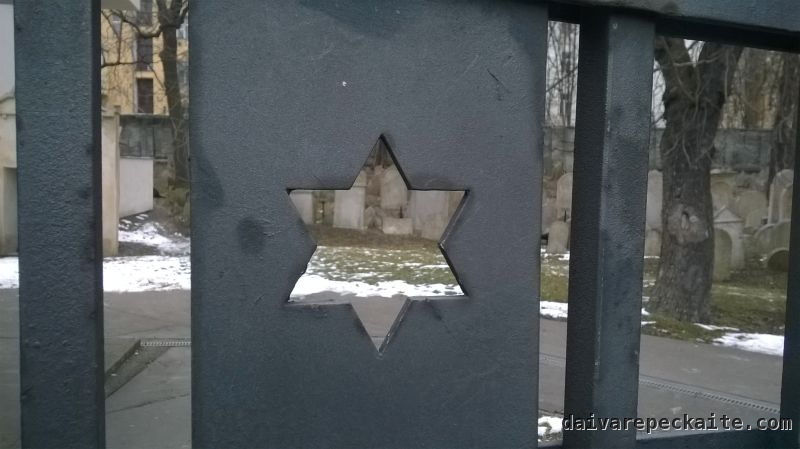 I asked my friend if she wasn′t tired of this touristy, half-hearted nature of things in Prague. She told me she loves it by now – the kitchiness, the quirkiness, and the fact that despite the tourist boom Prague remains cheap. It is cheap to an extent that the working class is able to develop its own bar culture in central areas rather than be entirely pushed out by gentrifiers.
Surely there are more layers to explore in the future.