We knew that an 11-hour bus ride would be quite a demanding adventure, but given the choice between jumping on a night bus and skipping the planned trip to Luxor, we chose the former. The train would have been a more convenient option, but a strike erupted in one of the railway towns, and workers would not allow trains to pass until the minister himself came to negotiate with them. So be it, we thought, unpredictability is a part of the charm when traveling Egypt three months after the revolution.
The bus was crowded, and my seat refused to lean back. After the evening prayer, two TV screens started showing Egyptian dramas. Our modest wish to get some sleep at night was too ambitious – earplugs did not shield all the screaming in the movies, which continued until around 1 AM. There was a brief period of silence until the morning prayer at dawn, after which the driver turned the TV on again.
The bus stopped on a highway, surrounded by fields and distant palm trees. As much as we could figure out, the driver announced "Luxor, next station – Aswan". Locals got off and found their way to minivans, serving as taxis to the city. My two companions and I, three obviously foreign European women, took some time to figure out what just happened and were afraid to be ripped off – we had no idea how far the city was. I had a phone number of a local I did not know – a friend of a recent acquaintance in Cairo. It did not feel proper to call him at 8 AM, but we had no choice.
"What do you see?" he asked, when I described our situation. "Umm… palm trees?" I said, looking around. He told us to get inside one of the minivans and then give the cellphone to the driver. He negotiated on our behalf and soon enough we were close to the main tourist attractions, safe under the wing of our trilingual tour guide Hamdi. My acquaintance in Cairo introduced him as a helpful friend, but as we emerged after going to wash our faces at a museum's bathroom and saw him wear his tour guide ID, we realized that we will probably have to pay him. Which turned out to be a better option than trying to figure out Luxor on our own. Having a guide with us helped chase away Luxor's notoriously aggressive peddlers.
Yet having to do that was heartbreaking at times. Although clashes that led to overthrowing the president in early 2011 mostly took place in Cairo and Alexandria, without spilling over to major seaside resorts and the South, tourism had virtually halted everywhere. As we were told, the first plane, with Russian tourists, was welcomed with songs and dances, as tourism is Egypt's key source of income, after the Suez Canal. Still, the long weeks when tourists stopped coming were enough for many family businesses to go broke. In Luxor, which draws its income from simple agricultural products and tourism, many people offer horse-drawn carriages to visitors. Without the flow of visitors, as we were later told, many could no longer buy food for their horses and lost those precious animals to famine.
Hamdi planned an entire route for us, interspersing museum and temple visits (the two main temples are Temple of Luxor and the Temple of Karnak) with coffee breaks.
We marveled at impressive pillars, in the shape of closed and open flower blossoms, magnificent arcs and perfectly planned buildings – especially keeping in mind how long they have survived. We regretted not having studied harder in our world history classes, which meant that we had to learn about ancient Egyptian gods and historical personalities almost anew. The wall paintings that we knew from history textbooks were impressively well preserved, except that some men had their visible genitals hammered out in the Middle Ages.
To end the day of exploration, we booked a Nile cruise, which allows visitors to enjoy splendid sunsets and compare two very different coasts of the Nile – one more agricultural and the other one more urbanized. A school-age boy helped the boat's captain, his uncle, – in the future, they said, he will take over the business. Hamdi also took us to a banana plantation, where we could also observe one tourist's high heels sinking into a dirt road.
It was clear that tourism workers were hungry for our attention and our money. We had read plenty of warnings about that, but we thought that, after all, they were living through troubled times, as individuals and as a country. Unlike in Cairo, people in Luxor sounded much more cautious about the revolution and worried about what it would bring. We decided that the least we could do is to play into their game, haggle as the ritual requires, but allow ourselves to be 'convinced' and let them to earn much-needed income to keep their business going. After all, we had the advantage of enjoying world-class heritage totally free of crowds.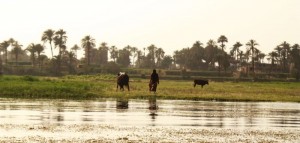 For the night, I had found a Couchsurfing host, a Latin American digital nomad, who was happy to host multiple travelers at a time. Looking at the beautiful moon over mountains from his flat roof, we had a long chat about this country. He explained how tour guides earned a commission from each shop or restaurant they took us to, and how some of them even used Couchsurfing for the purpose of having foreigners to take on pre-arranged shop visits.
At the same time, our host was deeply sympathetic to the locals and was doing his best to make a meaningful contribution to the community by teaching children English and Maths. A neighbor girl, eager to practice her limited English, went for a walk with us and insisted that two of us hold her hands and lift her up so that she could imagine she's flying. Will her exposure to foreigners help her to build the kind of future she wants, we wondered.
The next day was for exploring the West Bank of Luxor, which used to be the cemetery area and hosts ancient burial sites. We visited the Valley of the Queens, the Workmens' Village and tombs, the Temple of Hatshepsut and other impressive ancient sites. Between visits to different tourist sites, we now had shop visits that generate our guide's income. Whereas alabaster 'factory' owners will swear that, unlike those various fraudsters, theirs is a real workshop that uses real local alabaster, and they will even allow tourists to drill it, this business is known to be a fraud. Most alabaster is imported. Papyrus shops, which call themselves 'museums', were also not quite convincing. We knew sthat omewhat they were doing was wrong, but with crowds of lazy tourists searching for affordable authenticity, these sellers were just giving them what they wanted.
Another 11-hour bus journey back to Cairo felt easier this time. We had plenty to reflect upon – as we still do as the country plunges into chaos and the post-revolution spirit of 2011 is sinking into oblivion.