First part here.
Outside of the Old Town, a picturesque fortification attracts not only tourists, but also the theater and cinema industries. It is also used for rock diving. On it, the official motto of the former republic, 'freedom can't be sold for the whole gold in the world', is inscribed. The republic's nobility (men only) elected their representatives to the parliament, but rich traders were excluded from political representation and increasingly frustrated. The republic was abolished with the French conquest in 1808. The upper fort in the city was built to control the fort in the sea. During theater performances, Hamlet's father's ghost appears in the fortress. Our guide said that during her childhood residents could enjoy a lot of street theater, but nowadays theater happens in more closed spaces.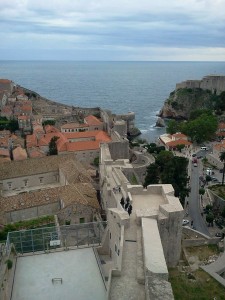 I like that I could capture the basketball court along with the fortress in this photo 🙂 It must be really special to play basketball while facing the sea.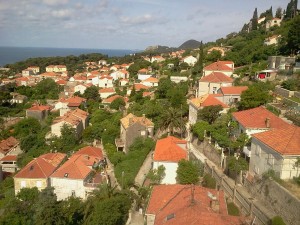 City walls are another special tourist attraction. It costs 90 kuna (EUR 12) to climb on them. The view is said to be the best in the morning or before the sunset, when there are not too many reflections. The view is worth the climb and the money. It takes about 1.5 hour to walk the full circle around the city walls – they are almost two kilometers long. Some people live their usual lives quite close to the walls, so there are many opportunities to take typical touristy pics of colorful laundry.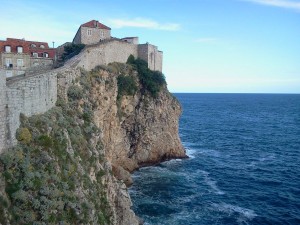 Breathtaking view from the city walls: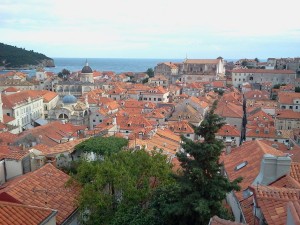 Dubrovnik was included in the UNESCO world heritage list in 1979, but severely bombed in 1991. Owners of UNESCO-protected houses could only replace broken tiles with the same type, but this type is expensive and produced in only one place in Italy. Owners tried to use old tiles wherever possible, that's why many roofs look like a patchwork.
Here's more: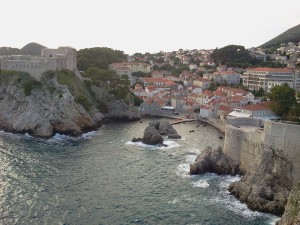 Many people come to Croatia specifically for enjoying the Adriatic sea. However, I totally prefer Baltic beaches. Croatia is rocky, and sand beaches are rare.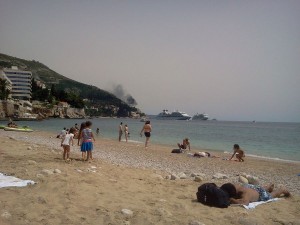 I'm proud that I'm doing a better job in protecting people's privacy than Google Street View 🙂 I try to follow strict standards of privacy on this blog and avoid taking close-ups of people without them being aware of it, but in Dubrovnik taking pictures of places without people was totally impossible.
Local businesses have found various ways to use the sea for earning money. One bar, named Buža, is placed directly on the rocks. Dubrovnik is already expensive, and in seaside places sky is the limit for prices, but it's worth trying it at least once.
In addition to the city walls, another way to see Dubrovnik from above is to take a cable car to the hills surrounding the town from another side.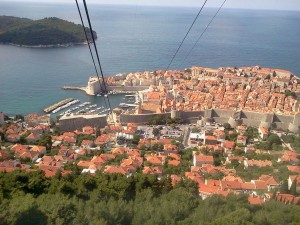 As I arrived there, there was the usual tourist chatter, but instead of taking the path that leads to some cross and chapel with a view, I went to the opposite direction and soon found myself alone in nature, with bees buzzing and birds singing. There was a group of horses visible in the distance, lots of flowers were blossoming, and I was glad that nobody else from the group I met at the cable car decided to discover this island of serenity instead of going to see the view they could see from the cable car anyway.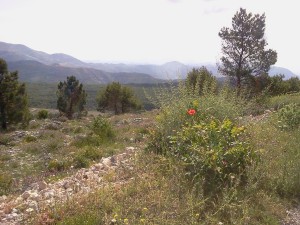 I wished I could spend more time there, sit around and write something, but I had some plans for the day, so I had to head back. Some people take the cable car only up and then go down the hill on foot. They say it's a fun walk, except that there is hardly any shade, so one has to be prepared, have a hat and enough water. There is a museum of Yugoslavian war atrocities on that hill too – I didn't go, but some people said it was interesting. As I returned to the cable car, I heard laughter and loud chatting in Chinese, as people were buying souvenirs from a tourist shop and taking pictures of each other with the view, and I was happy I made the decision to go off the beaten path.
For those who like nature, Lokrum island is also a must. It costs 60 kuna (EUR 8) to get there by boat. We were told we can see the island in about an hour, but we spent 2.5 and it wasn't enough. The island is large enough to have tourists dispersed. Austrian duke Maximillian of Habsburg (19th century) decided to make it his summer residence and had various subtropical trees planted. The gardens, full of very sociable peacocks, and ruins of a 12th-century monastery are among the landmarks, in addition to the so-called 'Dead Sea' – a little salty pond, where water gathers from the sea and heats up because it's shallow. Many people go to swim there (bottom right picture). The coast of Montenegro is visible in the top right picture below.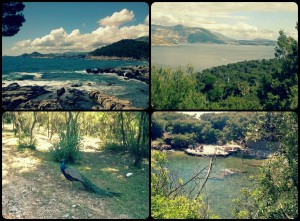 The visit to Dubrovnik was very relaxing, I think I would happily go there again, but at the same time it made me think a lot about tourism and various social issues. Residents must be living with a feeling that the old town is not theirs anymore. Prices make Dubrovnik the Luxembourg of the Balkans. Anyone who wants to take advantage of all this beauty contributes to that. Each euro that we spend sends a signal to local youngsters: "Don't work in productive industries to make things that people really need – better produce fancy bottles of thick glass with a few milliliters of a local drink, or polish your skills to convince tourists that they really want this kayaking tour." And what happens with these kind of economies, we see in Greece.
Many people would say that I should be the last person to worry about being imperialist towards local populations and that I am more of a traveler in the classical sense than a tourist – I practice 'slow travel' and I often go to places to learn something from their schools and to interact with the locals. But in effect, everyone who buys this packaged authenticity participates in the country's economy in the same way. We should never live under an illusion that we help a touristic place's economy by allowing people to earn from us – this allows only some people to earn, and when prices rise, other people are not able to make a living anymore. There are striking examples of tourism dependency in the world, and one, as I learned, is Luxor in Egypt. There are basically two businesses – tourism and sugar canes. After the revolution, when the flow of tourism stopped, people who offer horse carriages to tourists didn't have enough money to feed their horses, and many horses died before tourists came back.
In any case, dropping out of travel consumption and refusing to take advantage of all that beauty won't save anyone either. And before we find a solution, there are many things to see and enjoy 🙂