The Museum of Applied Art in Vilnius hosts Alexandre Vassiliev's private collection of art nouveau fashion (1890-1914), plus a little bit from 1840s to 1920s. The guide said that due to Vassiliev's love for Vilnius the museum didn't even have to pay to host it. Tourists are probably not that interested in international fashion, so the museum is busy welcoming groups of Lithuanians, almost exclusively women, who are curious to see the works from the so-called belle epoque so close. It isn't forbidden to take photos, so some people pose next to the fancy dresses. The exhibition will stay until November.

The belle epoque started out not so belle for women, although the European society at that time enjoyed peace and relative prosperity. Women were still fighting (and slowly winning, country by country) for a right to vote, but most of middle and higher class women still had their lives confined to home. Fashion was influenced by 19th century standards: dresses weighed like laptops five years ago, putting them on took a lot of effort, and the entire costume was effectively a straitjacket. Men had fewer limitations, but they too had to make sure they keep their necks straight not to harm their fancy collars, and they also wore corsets to look thinner.
However, Europe was opening up to new trends. The invention of X-ray machines allowed scientists to demonstrate how harmful corsets were to women's inner organs (to qualify as ideal, women's waist had to be around 48 cm – compare to 60 cm for today's beauty queens. Dresses in the exhibition really show that!).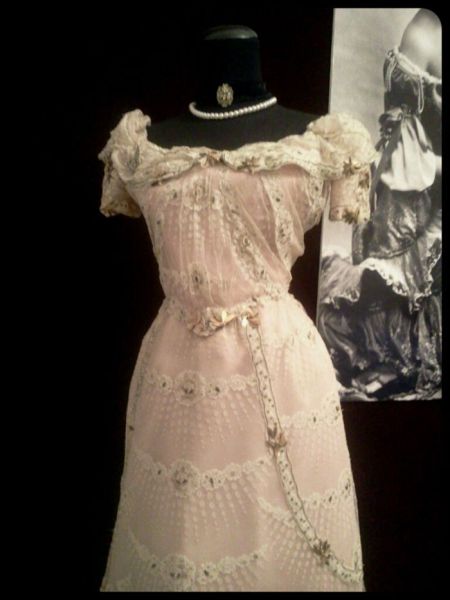 Paul Poiret, the legendary fashion designer and innovator of the time, was the first to free women's waist and lift the waist line up. However, it is said that he tied women's legs as a compensation. His and his contemporaries' obsession with East Asia was translated into copying Japanese kimono styles, which make women walk in tiny steps.
This garment was made in Japan for European and American consumption.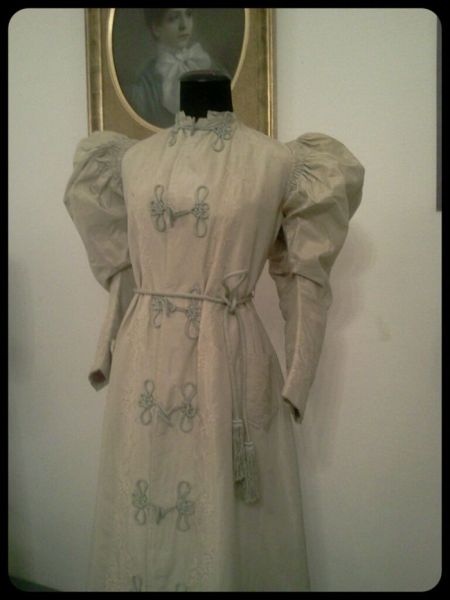 There were more innovations. Mariano Fortuni, a Spaniard working in Venice, used glass beads under the fabric to make his dresses slide smoothly on the wearers' bodies. Machine embroidery started making its way into fashion. The invention of trains lead to a boom of unaccompanied women's tourism, so there was a need for comfortable clothing. Photography made it possible to keep travel memories – and pressuring to look presentable at all times.
The discovery of the ancient palace in Crete lead to yet another fascination with Greek art, and women started posing for photos like centaurs (it sounds funny, but the pose is still used in today's advertising). A lot was copied from Russia (oriental motifs that were fashionable there at the time, fur details, etc.), and many fashionable accessories were produced in Warsaw.
All of this was told by the great guides working there. But it's worth spending some time alone and just looking at the exhibits. There are many things that people would totally wear today. Perhaps not stuffed seagulls, but embroidered handbags, tiny wallets and fancy accessories would be unmistakeably hip.
One of the most interesting objects for me were these hat pins, made from very strong steel so that they could be used for self-defense. With lots of unhealthy and impractical fashion, there's something stunningly practical about this most bizarre accessory.