The first time I learned about Bonn was when I was studying old maps as a child. This was one of my hobbies. In those maps Bonn was still the capital of West Germany, and when I started learning geography at school, it was still the seat of the united German government. I imagined that being a capital once it must have a similar feel to my hometown Kaunas, which was the Lithuanian capital in the 1930s. The difference is that Bonn was the capital until recently, and it still hosts various sub-ministerial agencies, along with 18 UN institutions.
Today, in addition to being an important administrative hub, Bonn is marketing itself as a cultural center, especially since Beethoven was born there.
This is a postcard I made from my photos.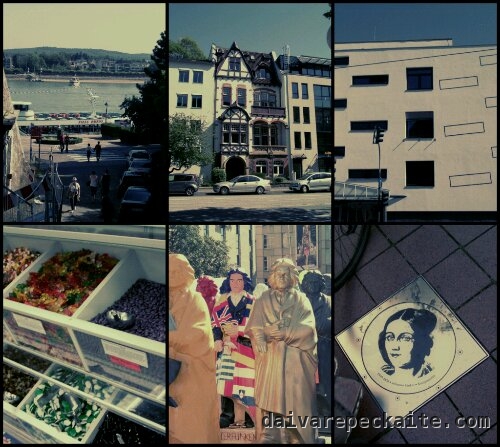 Photos from Bonn, edited with CameraZOOM FX.
Top left to right: riverbanks of the Rhine, fachwerk houses, example of interesting modern architecture; bottom left to right: Haribo factory shop, Beethoven sculptures, famous people's portraits in the sidewalk.

The Bonner Munster church was quite impressive. Huge heads remind of the city's patron saints, martyred in the 7th century. Many people are taking photos, but even more like to chill out in overcrowded and overpriced, but sweet and cozy cafes around the church.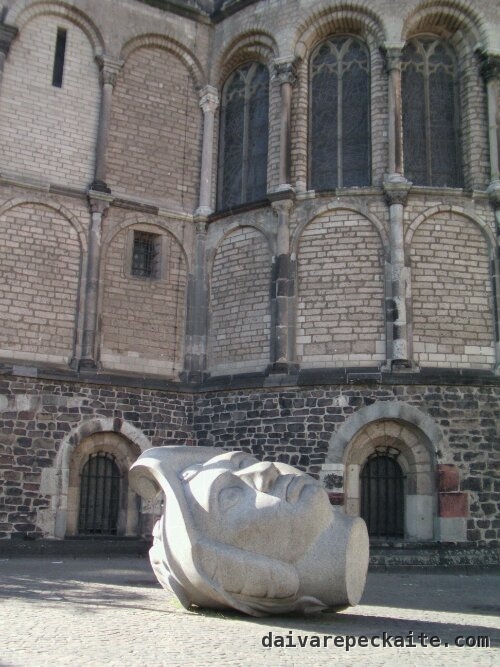 Famous people from Bonn are remembered in every way – their portraits are in one of the sidewalks, their faces are in graffiti.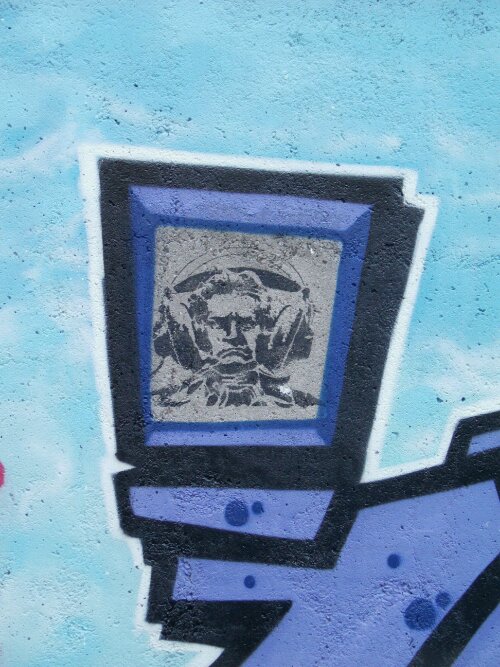 But interesting design is not only in houses and portraits of famous people.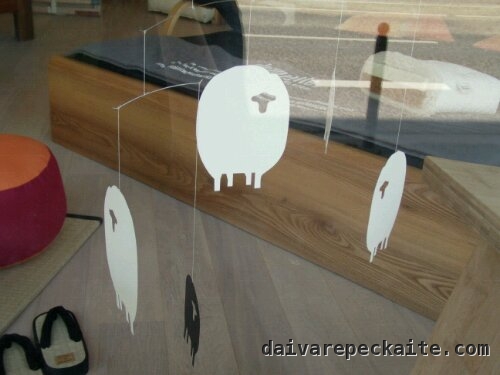 We expected to see something interesting in the famous administrative quarter. My own little pilgrimage was to see the headquarters of the Deutsche Welle. But the quarter was a huge disappointment. The only fun thing to see there was a stray goose. Other than that, the administrative quarter is dead boring – more than Kirchberg in Luxembourg and definitely much more than the EU quarter in Brussels. It is full of imposing tall buildings, and only those older and smaller ones, who still remember Bonn being the capital city, are a bit more interesting. In any case, the administrative quarter is not to be missed. Its gloom and the atmosphere of desertion create a feeling of emptiness and remind us that this was once the capital of West Germany – the land of many people's dreams.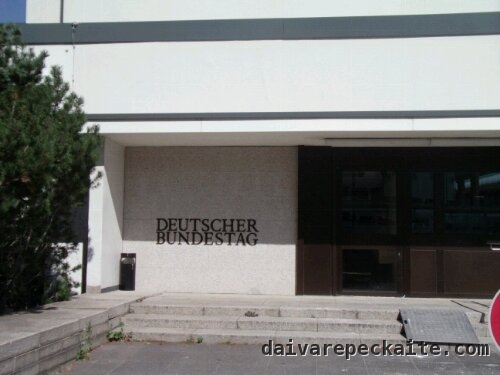 We walked around a little and looked for a place to sit and enjoy a coffee, but most places were kiosks without a bathroom. Most probably bureaucrats in this quarter use canteens in their buildings for enjoying a cup of coffee in the area. A bit further from the administrative quarter it is much more interesting, of course. There is a beautiful view of the Rhine, with long ships and nice bridges. The center is cute, and the university campus seems to be interesting. But I understand why the German parliament voted to return to Berlin in the early 1990s.
Time came for another pilgrimage – the Haribo factory. Haribo was a symbol of Westernness and capitalism for every Eastern European child. Someone told me that their children are able to tell whether the chewy candies are original (from Germany) or not. At the time when the German parliament was deciding and gradually moving away from Bonn, we in Eastern Europe impatiently waited any aunt or uncle who could bring the famous German treat.
No entry was permitted to the factory itself, but the factory shop was interesting nonetheless. It showed that there's more to Haribo than the famous Gummibärchen. The candies came in every shape, color and flavor. People were buying huge packs of them. It's really worth going there if you grew up imagining the West as a place of fancy cars and Gummibärchen.