In the first post about an essential kit to take along when moving countries, I wrote about an essential wardrobe to go through most of the life situations in one's new home. I want to make it clear that all of the countries I've lived in had plenty of shops for various budgets, but whenever I can, I try to avoid a shopping spree in a new country, because it is neither financially nor environmentally sustainable. It can also feel totally overwhelming in a new place, before I get to know how to navigate it.
Needless to say, everyone's stationery needs are different, and they also change as more tools and practices go digital. I'm not crazy over pretty stationery, but I have friends who are creative writers, and they consider it an absolute necessity to have a notebook that feels cosy and inviting. I can do with complimentary notebooks, but stationery is an important and often under-reflected part of my daily life, and having a sufficient kit makes me feel settled in a new home. However, I am very conscious of the fact that most of these things are neither reusable nor recyclable, so I try to have a small kit that I can take with me for years rather than go shopping anew in every place.
I am a human interest and lifestyle journalist, occasionally covering politics and arts, so I get to attend lots of events. Ever since I started my career over a decade ago, I get more than enough ballpoint pens and notebooks – at conferences, events and receptions, from businesses, NGOs or even police stations. I also get pencils, key rings, and card-sized USB drives.
For a hobby, I enjoy drawing. I also read voraciously, and I enjoy handicrafts. Previously I used to utilise the abundant ballpoint pens, conference pencils and notebooks for sketching, but I am increasingly aware of their limitations. So to pursue my hobby, I did make a few rounds of shopping in Malta and during my travels, as I started art lessons a month after moving to Malta. Just for my leisure-time sketching, a complimentary notebook, a couple of watercolour pencils, a water brush, a soft pencil and a paper knife make a sufficient basic kit.
Bookmarks are another object in oversupply – I get them as promotional materials. I got the one I currently use from a recent interviewee. Otherwise I use postcards, used tickets or receipts as bookmarks (I also use tickets and receipts for shopping lists). Some people are very attached to particular bookmarks, so it makes sense to take them along, but they easily get lost when travelling.
I am a freelancer, so my days and weeks tend to be quite unstructured. I've started a bullet journal to keep track of what I do day to day to avoid the nagging feeling that I haven't worked enough, and to keep track of long-term projects, goals, and personal wellness. I use a large notebook I received from the Financial Times for a home-based bujo/diary, and a smaller one from Valletta 2018 foundation to carry with me. I've stopped using agendas, as they lack flexibility, so instead I prepare a calendar of a month in a plain notebook. I have a highlighter for the goal-tracker at home and one or more complimentary ballpoint pens always with me. I use a separate small notebook for travel diaries to keep my travel notes in one place and not mixed with daily stuff. Someone with a different job may need fewer or more objects, as a digital calendar is more than enough for people with a structured week.
So let's get to what works as a basic kit of stationery and non-basic electronics for the first weeks, before it becomes clear how to work and pursue one's hobbies: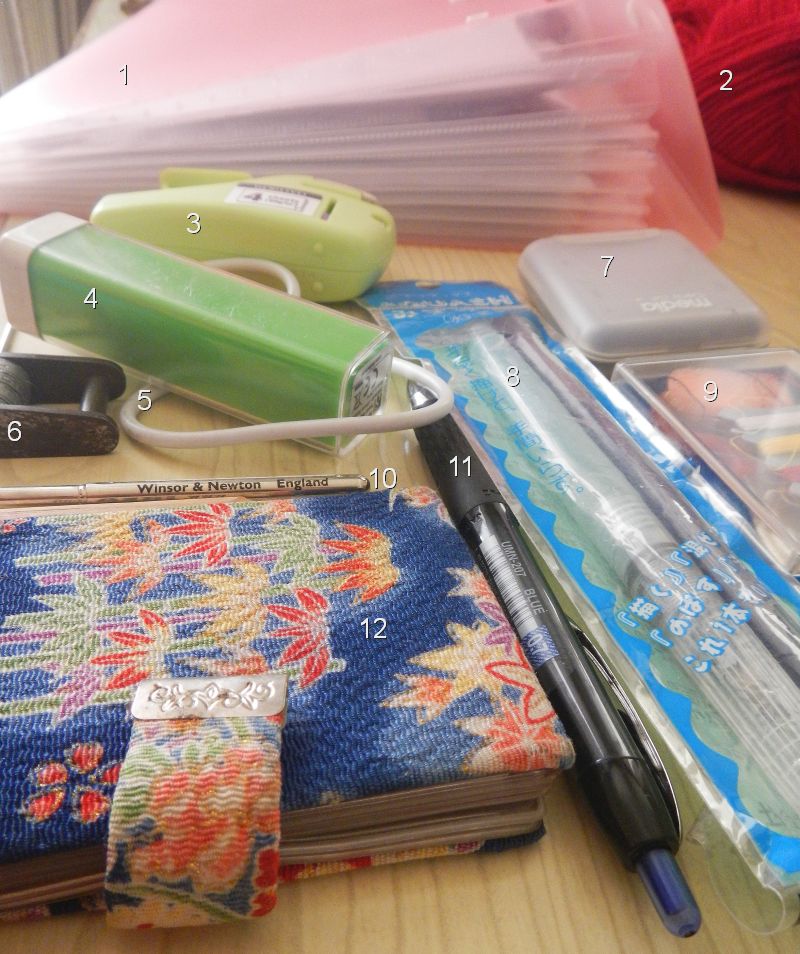 1. Clear folder from Japan to organise invoices and other paperwork. A lot of stuff, and nearly all government communication is paper-based in Malta, so I need one.
2. Crochet hook and yarn for a relaxing hobby – could be replaced by any other relaxing hobby alternatives. Hobby shops are not necessarily around every corner, but the first weeks in a new country can be a bit lonely and overwhelming, so it's essential to have supplies for a relaxing hobby.
3. Staple-free stapler – a marvelous invention I discovered in Germany. It's lightweight and binds up to five pages, and I won't need to buy and waste staples.
4. Power bank, for obvious reasons.
5. Extra cables, because those tend to break during travels.
6. Tiny vintage lock I got from my father – I love its simple and trustworthy design. It's good to have a small unpretentious lock to secure various items and bags.
7. SD card holder.
8. Basic outdoor sketching kit – a water brush and a watercolour pencil. Can be replaced by other items needed to pursue an intellectually stimulating hobby.
9. Small sewing kit – an absolute necessity.
10. Mini brush from the UK – again, a hobby item.
11. Nicer pen that makes my handwriting look better (I love sending postcards!) and meets my handwriting needs before ballpoint pens start accumulating from everywhere.
12. Pretty business card holder from Japan for various meetings.
The kit looks quite random and very personal, but the basic idea is that some small items are easy to transport and feel good to have. They enhance productivity and relaxation. Many non-essential things (maps, calendars, to-do lists etc) can go digital.