Also posted on Wonderland.CafeBabel.com.
As soon as it became warm enough, Laimikis.lt relaunched its initiative called "Bubble the City" in English (in rather unsuccessful search for an adequate term for the creative Lithuanian "Burbuliatorius"). As last year, it takes place in Lithuanian cities and towns, as well as the most popular migrant destinations. The idea is to encourage people to spend time outdoors and do something together in a non-commercial setting, using one of the green public spaces. I have noticed that Vilnius, which, although blessed with open spaces, has rather unstable climate. It drastically lacks public toilets, and many urban spaces that people like become 'overplanned' due to dubious government initiatives, such as replacing old trees, which used to provide comfortable shade, with new, specially designed trees. Being in central Vilnius in cold weather is no fun at all, to put it mildly. Like in many cities, you must buy something to enjoy a comfortable place to sit. Compared to Tokyo, Vilnius at least has benches.
Various activists and groups try to revitalise open spaces of Vilnius and encourage people to spend time there and shape the places to better meet their needs. Sharing of photos online became another way of getting together for the sake of soap bubbles. Particularly because the event takes place at the same time in Lithuania and in Lithuanian emigree communities.
The organisers provide a 'recipe' how to produce particularly strong and large bubbles.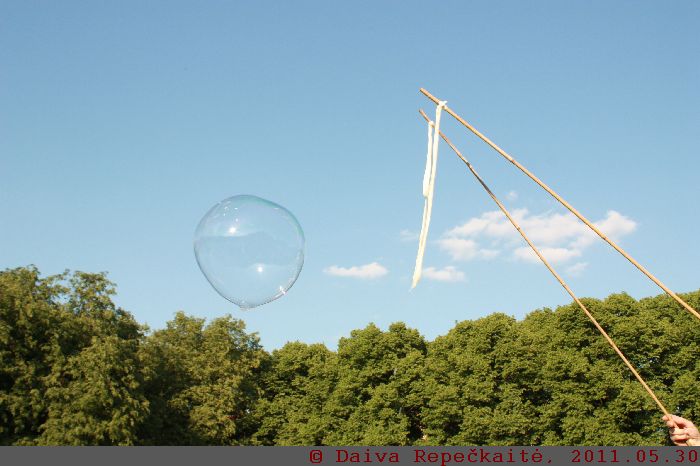 However, it can be equally fun to use the old, traditional methods and fill the summer air with small bubbles.
Thus the event becomes a special day both for groups of friends and families. The organisers encourage any performers or artists to bring their instruments/equipment and perform for the public. The idea is to make the event fun both for youngsters and for families with children.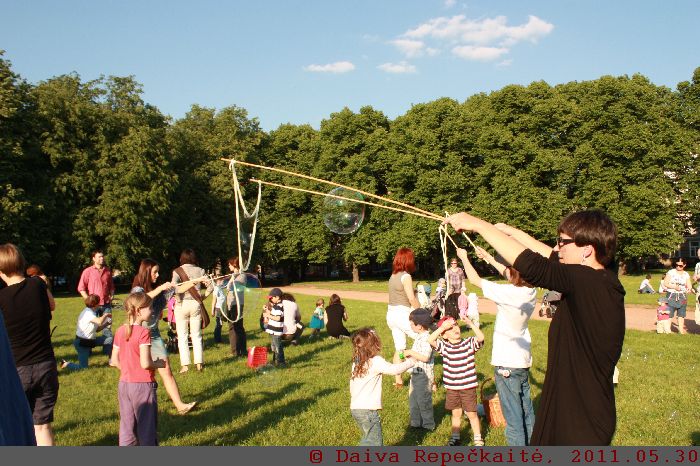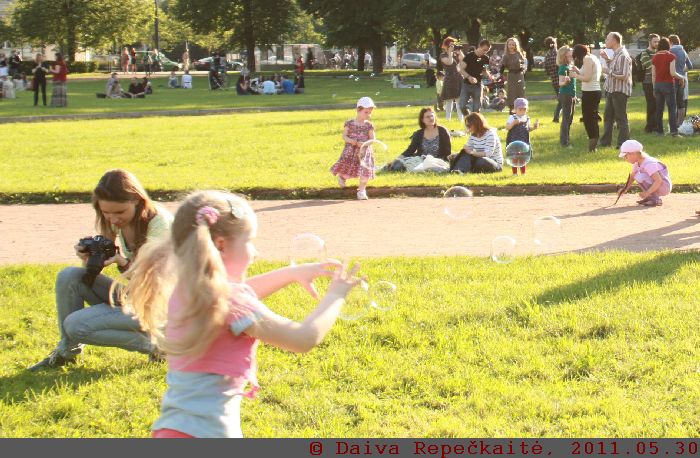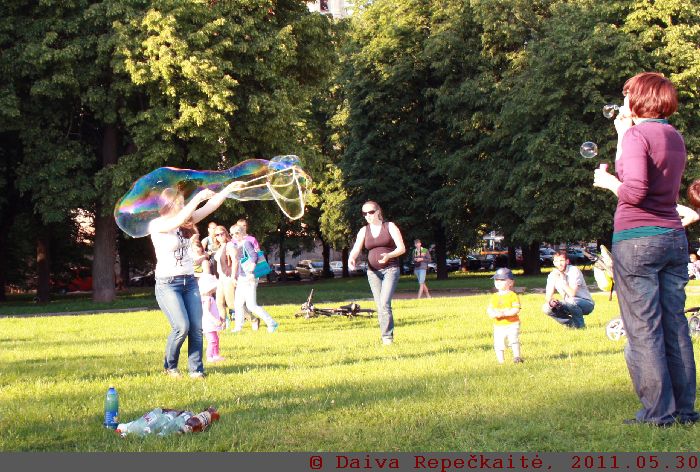 The Lukiškių sqare, where the event takes place, is likely to change in the future. After several rounds of debates (this time – with a public consultation, surprise surprise) one of the projects for the reconstruction of the square was chosen (all projects were equally useless, if you ask my opinion). There were ideas to build a gigantic monument, but a moderate solution was found. There will be more trees, red sand will be replaced by stones (supposedly because sand gets wet in autumn), and there will be a place where a 'nationally important' monument can be built in the future. While some projects were more open about their intentions to populate the space with more old-fashioned monuments, this one effectively excluded the question of monument from the public consultation, and I wonder whether the idea for the monument will not be slipped in silently. Without any public consultation or public procurement, and not even agreement of experts and architects before recycling, sorry, building a Soviet-style sculpture "Message" (žinia) close to the main city library. It cost the municipality, according to Bernardinai.lt, around LTL 360 thousand (~EUR 100,000), although the statue itself was made in the Soviet times, only a suitable place for it was not found. The black statue of the Roman goddess Diana looks off-topic in the landscape and distorts the image of the public library.
The good news in this context is that Lukiškių square should stay more or less green (although I don't know why it is necessary to plant more trees – they won't block the noise from the busy street nearby, so perhaps it's just for crow breeding?). Yet it is not enough. New structure of space can make it not cosy in an instance. In addition, while the square will be closed for reconstruction, people are likely to lose the habit of gathering there.
My friend, who is an urban sociologist, pointed out that in some ways the fate of Lukiškių square is a cross-generational issue. For many old people the square reminds the past – this is where the main statue of Lenin used to stand (urban legends have it that Lenins were very practical, and the giant statue was pointing at the closest public toilet – now there are no public toilets around for statues to point at). For the young generation it's just an empty space to hang out and… blow bubbles.
Note: This blog follows the rule that photos can be taken freely at public events. If you, however, recognise yourself or your underage children in one of the close-ups and would prefer not to appear online like this, post a comment and I will remove the photo.