I made a short list of objects that I wanted to see in Vancouver, but when I got there I decided to simply go with the flow. It was easy to meet new people, and I figured the social landscape is just as interesting as the urban. I went to the Sea Wall the first day (my geographer friend explained about various innovative housing ideas from the 70s), then Stanley park and the aquarium on the second. Then a heatwave came.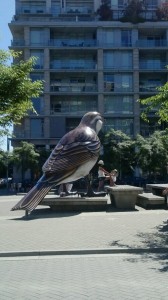 It seems that just like in Sweden and other northern countries heat makes everyone go outside and enjoy. We went to the Lighthouse Park for a little hike. It's a rainforest with lots of nice views and impressive ferns. I also spent a few hours on the Third Beach and even went to swim in the ocean. All the beaches were full, but some people chose to swim in a pool.
It's outstanding how in this mega-urbanized place people seek out these islands of nature.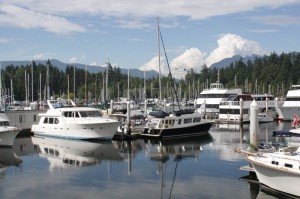 I saw several woodpeckers, racoons and a skunk. I had seen woodpeckers in Lithuania, but none of these two mammals.
There is an open-air market under Grantville Bridge, which seemed to be an interesting place and a great way to use space under a bridge.
Among other things, Vancouver is divided between Eastern and Western parts. As in almost every city that has that, the Eastern part is poorer. Strange global pattern. But the dividing street is rapidly gentrifying, and relatively wealthy people will eventually move East. Since Vancouver is an island, it makes me wonder where the poor people will go. A partial answer was offered in one neighborhood, traditionally industrial, in the East. Many people looked older, poorer, and there was the highest concentration of wheelchairs I've ever seen – apparently because this is where all social services are concentrated. Increasing numbers of people are becoming homeless.
Another interesting neighborhood on the Eastern part is known for its hippie presence. When we went there, there was a performance outside, and many rainbow flags flying.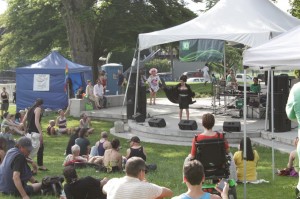 My first encounters with generic American food in SF were not that exciting, and my host in Vancouver is a great cook, so I couldn't really tell what mainstream Canadian food is like, but Vancouver has plenty of Asian food, and that's all I need. On the first evening we went to an izakaya, which was sort of average, but I got to speak Japanese. My host had a home party, where I met his friend, who works for an airline, and we soon found out that we both spent a semester in Sweden. So we started chatting in Swedish, as much as I remembered it. When I didn't know some word, I would ask it in English (her Swedish was by far better), but when she didn't know some word, she said it in French, and our conversation slipped into French. It was amazing – I got to speak five languages in Vancouver!
Coming back to food, we had sushi another day, and a dinner at a Chinese restaurant specializing in dishes from the Xi'an (?) region. I will certainly remember its white fish stew with lots of pepper. We also had great Nepali food at Cafe Kathmandu. My personal favorite was goat meat, which I hadn't tried before (I try to eat everything during my travels). We were a large group, and the owner came to talk to us. I knew what I knew about Nepal from BBC and mountain climbers, but here was a former Maoist!
In short, Vancouver is so far my favorite destination of this trip. It has great options for solo travelers and for groups. Or perhaps I was just lucky with the weather…