Metz (Northeast France) is excellent for a day trip, particularly when you are sick and tired of this year's Europe's prolonged winter. With a cute mixture of 13 century religious architecture, some French rationalist planning, astonishingly large and centrally located green spaces, and art venues, the city is simply a pleasant place to be, although, as some of us noticed, it did not seem there was much going on. It did not seem that crowds of tourists follow one another touring the city's really impressive touristic objects – but this is perhaps to the benefit of the city's cosiness.

Despite being located far away from the Mediterranean Sea, Metz offers many pleasant sights for a shutters-fetishistic glance 🙂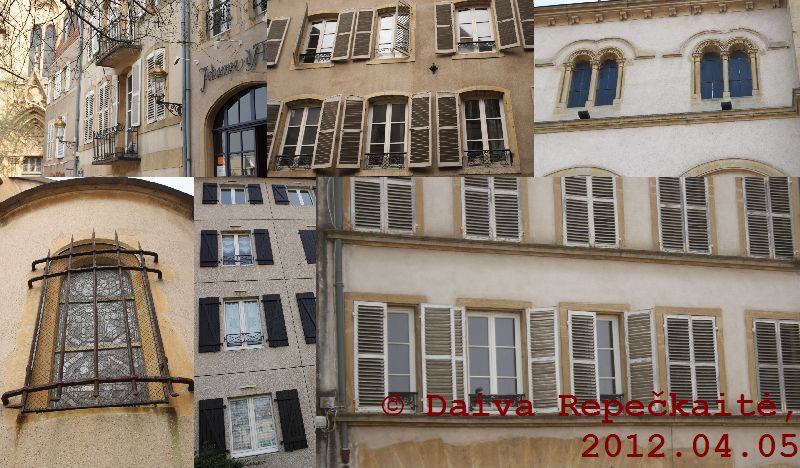 Note that the bottom middle picture shows how shutters can be incorporated into the otherwise dull design of apartment blocks.
The city has one of the most impressive railway stations. As you walk towards the city, there is an arch and some sculptures, which already promise many pleasures for art lovers. There are many ways to start touring the city. The Pompidou Modern Art Centre is close to the station, but it's recommendable to keep it for later.
We went towards the river, from where some of the historical buildings on a small castle can be seen from a distance, the famous medieval St. Stephen's Cathedral can be reached easily, and a cute Chapelle des Templiers is on the way. Some people prefer to go straight to the centre, turning right as they reach Galleries Lafayette, and entering the shopping area. But for those who are interested in shopping in Metz, there will be plenty of time for that after enjoying the city's unique sights. For example, after strolling along the river. What you see in the picture below is very central!
This is the 13th century Cathedral.
What impressed me was that one of its stained-glass windows was designed by the Vitebsk-born painter Marc Chagall. One of those emigre artists that Lithuania is proud of (Vitebsk was more or less an associated territory around those times). Chagall is famous for his colourful paintings of small-town Jewish life, but, apparently, was fascinated with the Old Testament in the 30s and continued 'illustrating' churches after returning to France in the 60s.
On the way to the exhibition hall FRAC, we noticed this chapel-like building with images of very realistically painted naked people.
The author was playing with the fact that, despite being very common and aestheticised in art, naked body becomes obscene when a touch of civilisation is added. Sneakers, white stripes from swimming suits, when the whole body is tanned, made these bodies somewhat unsettling.
The FRAC exhibition's theme was reading. It contained inverted black letters, various compositions of words, and a very interesting video installation, where words such as 'male', 'female', 'old', 'food', 'child' were swimming like fish and interacting with each other.
Sunshine and daffodils were inviting us to enjoy sitting outside. After some searching, we decided to have lunch at a small local cafe on Rue de la Paix. The cafe was called something like L'en K, and it also had words 'Sucre' and 'Sole' written next to its name. The cafe has a great host, who patiently smiled as we ordered our food in broken French, and served everything with love and care. A menu consisting of a sandwich, a drink and a dessert costs EUR 6.9. We sat there for a while observing locals – there were barely any tourists.
I think it's quite obvious by now that I strongly recommend visiting Metz – it is cute, cosy and feels local, despite having all it takes to become a major tourist destination. I hope I'll go there again soon.